Celebrating San Francisco's Rich History at Presidio Social Club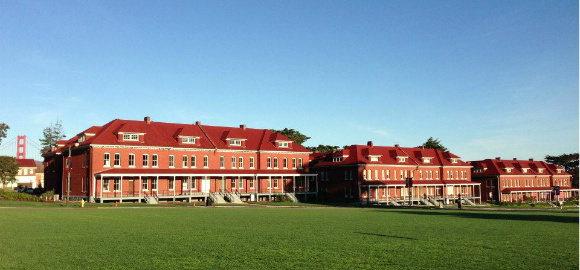 Chef Ray Tang knows and understands San Francisco's history and the importance of restaurants to each neighborhood.  That understanding has led to a highly eclectic, yet classic menu at Presidio Social Club.
"We're very lucky with the space.  We really want to highlight and take advantage of the history of the Presidio.  With the décor and the design and layout of the restaurant, we want Presidio Social Club to have a vibe geared toward being part of the park, but also, to be a true social club" Tang said.
Tang, who formerly spent time at Postrio and Boulevard, said he loves the fact that different neighborhoods in San Francisco showcase such diverse ethnic cultures.  "I love Swan Oyster Depot and Original Joe's – from the ambience at those restaurants to what they offer.  There is a history and a sense of embracing that history at each of those spots.  That corridor between North Beach and Chinatown – it's all part of what we are trying to incorporate in our menu and in our restaurant.  An understanding of this site, an understanding of the history of the city, but with a modern and fun feel."
Tang's sense of history can be seen in his winter menu this year, with several nods to dishes from the 2005 founding menu.  "It's really about providing simple, everyday classics in a fun environment," he said.  "We have restaurant favorites like our Mac and Cheese, Classic Meatloaf and PSC Hamburger and then you go back to some of the throwback dishes like Grilled Beef Liver & Onions and the Oven Roasted Bone-In Ribeye Steak For Two.  There are also some new menu items like the Delicata Squash & Melted Crescenza Cheese and Warm Chicory & Quinoa Salad."
The menu at Presidio Social Club goes through major seasonal changes with tweaks here and there in season. Winter produce like chicories, citrus and hearty winter greens are all items he's excited to work with, implementing them in many of the offerings on the menu.
As is with almost all neighborhood restaurants, Tang is always excited to see familiar faces and enjoys meeting and greeting and getting to know guests. "This is a place for locals, a place for business people in the area, but also for tourists visiting the Presidio. I learned at Boulevard to try to keep things fun and fresh and I've brought that same attitude to Presidio Social Club," he said. "We want this to be a restaurant where customers are able to fully use their imagination."
Here's the recipe for one of Tang's staple dishes: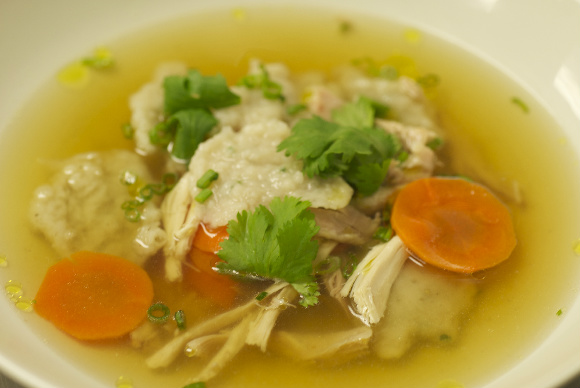 East West Chicken Dumpling Soup from Presidio Social Club
1 whole chicken
6 qtrs. chicken stock
2 carrots cut 1″
2 ribs celery cut 1″
2 yellow onion cut 1″
2 leeks cut 1″
2 cloves garlic crushed
1 thumb ginger sliced
4 lemongrass stalks
1/2 piece while cinnamon stick
2 cloves
2 bay leafs
2 star anise
Pinch chili flakes
1/4 cup fish sauce
Put all ingredients in stock pot except for fish sauce and bring to a boil. Skim the top. Reduce heat and simmer for 10 minutes. Then turn off heat and add fish sauce (*optional) if you're adverse to fish sauce you can always just use salt. Cover and let stand for 1 hour.  After an hour discard skin and bones from the pot, remove chicken and shred meat. Add the meat back to the broth.
Dumplings:
2 cups All Purpose Flour
2 cups water (room temperature)
1 Tablespoon Salt
1 Tablespoon Black Pepper
3 Tablespoons chives sniped
Start on your dumplings by adding water to all ingredients until it forms a paste. Let the dough rest for 1 hour. Begin by scooping 1′ pieces into boiling salted water and cook for 10-15 minutes. Then remove and chill in ice bath.
Add the dumplings to the soup and garnish with cilantro, sliced scallions, and wedge of lemon.
Presidio Social Club is located at 563 Ruger Street in San Francisco.
Photo Credit: Presidio Social Club