In the Kitchen with Daniel Corey of Luce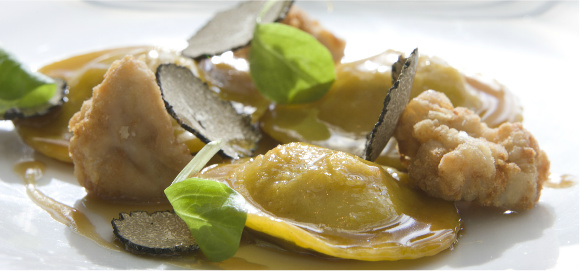 He took over the kitchen of a decorated chef and has made it his own – maintaining the excellence of a Michelin Star two years running. And in the words of Chef Daniel Corey at Luce, this is just the beginning.
"It's hard to categorize Luce. I guess I would call it modern American cuisine. We source locally here at the restaurant, working with local farmers and producers," Corey said. "We have such a diverse demographic that comes in, from hotel guests to out-of-towners and local food-lovers. We really don't want to dumb anything down; rather, it's about enhancing the ingredients so they're not contrived, but thoughtful."
Corey, who took over for Dominique Crenn when she left to open her own restaurant, Atelier Crenn, said the transition has been fairly smooth. "I worked with Dominique when she was here and had my hands in a lot of the planning in the kitchen each day. I think it was more of an inner challenge for me," he said. "It was a huge honor to take over at Luce and know that a lot of people put their trust in me. As a kitchen, we really wanted to keep the momentum going."
Located in the InterContinental Hotel, Corey has built a menu that changes frequently, as he calls it "seasons within a season." There are certain dishes that always tend to remain on the menu, like entrees featuring beef, lamb and steak and perhaps his signature, the sweetbread ravioli. But they might get a tweak here or there, bringing in an ingredient that is fresh and in season and taking a different component out.
The menu is served a la carte (breakfast, lunch and dinner daily) but from Tuesday-Saturday, Luce also offers a nine-course chef's tasting menu. "The tasting menu really allows us to do some really creative things. As a whole, we focus on modern cooking techniques and I think the tasting menu really lets those techniques shine through. We want people to be engaged in the cuisine, to ask questions. And hopefully, it leaves a great impression on them," Corey said.
Recently, the restaurant began offering a smaller version of the tasting menu on Sundays and Mondays, what Corey calls a "sneak peak" of three courses.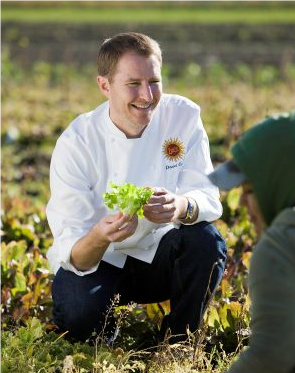 In terms of seasonal produce, Corey is excited about working with sunchokes, artichokes, pears, brussels sprouts and cauliflower. "I'm also working on a lot of different preparations of garlic. And I just got in some limequats, which I have never used before. It's always fun to get in new stuff and working with those ingredients."
Corey said he and his team are constantly refining what they do, adding little touches here and there, as the restaurant continues to grow and evolve. Perhaps the coolest story – I asked Chef Corey about cooking for President Obama, who always stayed at the InterContinental on campaign trips to San Francisco. "We have a good relationship with the president. There were times where he ordered off the in-room menu and other times where he would order off the regular menu. I can tell you just from what he ordered, he seemed like a pretty normal person. When the order came in, he had his staff watching over me in the kitchen as I prepared his food. It was a little surreal. But I did get a picture with him, which is a fun story to tell."
Here are two of Chef Daniel Corey's recipes, which he prepared at a James Beard Foundation dinner earlier this year.
Sweetbread Tortellini
For Pasta Dough:
8 egg yolks, lightly beaten
1 cup super fine flour
Method:
·   Make a well in a medium stainless steel bowl with the flour.  Place lightly beaten egg yolks in the well.
·    Using your fingers, slowly "swirl" egg yolks in a circular motion pulling flour into the center of the bowl a little bit at a time.  Once the dough begins to come together and becomes difficult to manage, take remaining flour and press into dough then turn out onto lightly floured work surface.
·    Using the palms of your hands, continue to press the dough together then begin to knead the dough.  This process takes about ten minutes.
·  Once the dough feels elastic and glossy, form into a ball- wrap tightly in plastic wrap and press into a disc about 1 inch thick.  Set aside as it is important to let the dough rest.
For Sweetbread Filling
1 Pound lamb sweetbreads, cleaned, cut into small pieces
1 Pound sheep milk ricotta (Bellwether Farms, preferably)
Chives, chopped – 1 bunch
1 cup all- purpose flour
Salt
Canola oil
Method:
·   Season the sweetbreads with salt and toss in flour to coat evenly.
·   Place 1/2 inch of canola oil in a medium hot sauté pan, then add the sweetbreads but only in one layer.  Do not crowd the pan. This process may take a couple rounds.
·   Shallow fry the sweetbreads until golden brown and crispy on both sides.
·   Remove from the pan and drain on paper towels.
·  Let sweetbreads cool, roughly chop and fold into the ricotta.
·   Fold in the chives.  Adjust seasoning with salt.
·    Place in refrigerator.
Assembly:
·   Roll pasta out, if using a pasta crank start on one and roll out one at a time stopping after dough has gone through number six.
·    Lightly dust with flour and begin punching out "coins" of the pasta dough with a number three ring mold.
·  Place a little pile of filling in the center of each coin, and then fold over edge to edge, forming a half moon shape.
·  Turn the half-moon so the round edge is facing towards you.  Take the corners of each side with your thumb and index finger, holding horizontally, and "pull" the sides straight back and pinch together.  This forms the tortellini.
·  Continue with remaining dough.
·   Blanch in seasoned water for 3-4 minutes, or freeze immediately for later use.
·   This pasta can be frozen indefinitely for convenience.  It's time consuming but worth it!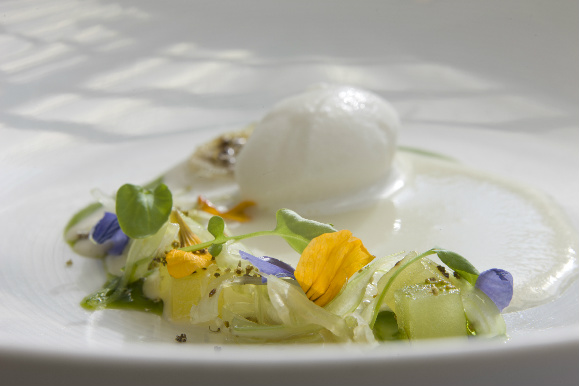 Veloute of Celeriac & Apple, Fennel, Coffee Iced-Milk
Veloute Ingredients
Celeriac, diced              6 ea.
Granny Smith Apple, peeled, cored and diced      8 ea.
Yellow Onion, julienne            3 ea.
Whole Butter, diced              8 oz.
Water                  as needed
Kosher Salt                to taste
Method:
·   Sweat onions in butter with a large pinch of kosher salt over low heat until "melted".
·   Add the celeriac and apple and continue to sweat for an additional 10 minutes.
·   Barely cover the vegetables with cold water, and bring to a simmer. Simmer until celeriac is completely cooked.
·   Strain vegetables, reserving the liquid. Place the vegetables in a Vita Mix in batches along with enough of the cooking liquid to make a smooth puree.
·   Pass the puree thru a fine chinois. Adjust seasoning & chill immediately over ice.
Coffee Iced-Milk Ingredients
Milk        400 grams
Stabilizer      150 grams
Espresso Beans, whole  15 grams
Method:
·   Bring all ingredients to a boil
·   Steep for 30 minutes, strain
·   Place mixture in a Paco Jet canister, freeze overnight
·   Spin in Paco Jet and place in freezer
Plating & Garnish Ingredients:
Vegetable stock
1 T cold butter
Baby Fennel, shaved
Celery Stalk, shaved
One apple
White Balsamic Vinegar
Extra Virgin Olive Oil
Salt
Espresso salt
Fennel pollen
Assortment of micro greens and edible flowers
Method:
·   Taking one slice of apple and cut with a ring cutter to make a small compressed circle; dice remaining apple and set aside.
·   Place apple circle in bottom of a bowl; add a scoop of the coffee iced-milk on top.
·   Sprinkle with espresso salt and fennel pollen.
·   Around the coffee iced-milk, build a salad using selection of shaved fennel, celery, and diced apple.
·   Dress with white balsamic vinegar and extra virgin olive oil.
·   Add a pinch of salt and set aside.
·   Warm six ounces of veloute (per serving) in vegetable stock until it comes to a full boil.
·   Add butter and blend with a handheld immersion blender until emulsified and frothy.
·   Pour over bowl and serve immediately.
·   Garnish with micro greens and edible flowers.
Luce is located in the InterContinental Hotel at 888 Howard Street in San Francisco.
Photo Credit: Luce