Dew Tour Extreme Sports Contest Takes Over SF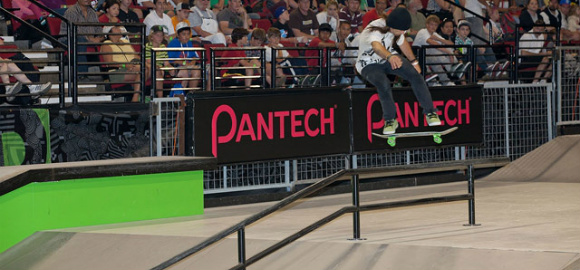 Massive mounds of dirt jumps, scaffolding and other obstacles are turning Civic Center Plaza into a playground for pro skateboards, BMX and FMX athletes this week for the Dew Tour extreme sports competition. 
Action sports stars—and a special appearance by Lil Wayne and Portugal. The Man—will be descending on San Francisco this week for the Dew Tour's Toyota City Championships. Hitting San Francisco for the first time, the event will be held from Thursday, October 18 through October 21, with some of the top stars in action sports on hand.  Here's some highlights from last year's finale:
The street skateboarding competition will take place in Civic Center Plaza and will feature big names such as Paul Rodriguez, Ryan Sheckler and Nyjah Huston. The course will include several replicas of San Francisco skate spots, including Hubba Hideout and the China Banks.
Harrison Street, between Fremont and Spear, will be the scene for the first-ever Skate and BMX Streetstyle contests. The course is designed with San Francisco's natural hilly landscape in mind with skaters and riders cruising toward the Embarcadero.
BMX Street is being introduced at this event as well and will be held along with BMX Dirt and BMX Dirt Best Trick. And finally, the FMX Triple Threat competition will be led by FMX legend Carey Hart. Ten riders will be competing against each other in three rounds—no invert, best whip and rider's choice—in front of City Hall.
The event will be free to attend although there will be premium passes available for many of the events, giving attendees an up-close look at the action.
The Complete Schedule (subject to change):
Thursday, October 18
Venue Open: 2:00PM – 7:00PM
Civic Center Plaza
12:30PM – 1:30PM Free Flow Tour BMX Dirt Final
1:30PM – 3:30PM Skateboard Street Prelim
2:00PM – 7:00PM Dew Tour Experience
3:30PM – 5:00PM BMX Dirt Prelim
5:30PM – 6:30PM BMX Street Semi-Final
8:00PM – 9:00PM FMX Triple Threat Final
Friday, October 19
Venue Open: 2:00PM – 7:00PM
Civic Center Plaza
2:00PM – 7:00PM Dew Tour Experience
3:00PM – 4:30PM BMX Dirt Semi-Final
5:30PM – 7:00PM Skateboard Street Semi-Final
7:00PM Concert: Portugal. The Man, Reptar
Saturday, October 20
Venue Open: 10:00AM – 5:00PM
Civic Center Plaza
10:00AM – 5:00PM Dew Tour Experience
10:30AM – 12:30PM Skateboard Street Final
2:30PM – 3:30PM BMX Street Final
5:30PM – 7:00PM BMX Dirt Final
7:15PM – 7:45PM GoDaddy.com BMX Dirt Best Trick
Sunday, October 21
Venue Open: 12:00PM – 5:00PM
Civic Center Plaza
12:00PM – 5:00PM Dew Tour Experience
12:00PM – 1:00PM Mountain Dew Am Skate Team Demo
1:00PM – 3:00PM FTC's Open House – Locals Skate Contest
3:00PM – 5:00PM Woodward Demos and Instructional Skate Sessions
4:00PM – 5:00PM Mongoose Athlete Demo at BMX Interactive
Harrison Street
11:00AM – 1:00PM BMX Streetstyle Final
3:30PM – 5:00PM Skateboard Streetstyle Final