Fleet Week Descends on San Francisco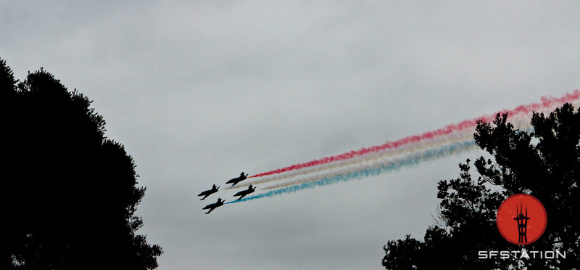 It's a bird, it's a a plane… nope, it's just the Blue Angels revving up their engines for a fly-by. It's that time of year again for Fleet Week in San Francisco.
Don't be alarmed – practice runs will be occurring throughout the week as the pilots prepare for the big air show over the weekend. The event itself begins on Thursday and concludes on Monday with ship tours and a high school band challenge in Golden Gate Park.
Fleet Week for the most part takes place along Pier 39 and the Marina Green. It is a pretty amazing event if you have never been. Although the air show on Saturday and Sunday is the highlight for many, the ship tours are also great. It really is not only a fun event, but pretty educational as well.
The USS Makin Island is set to sail into the Bay on Wednesday afternoon. Practice runs by the Blue Angels will occur on Thursday with the event scheduled for Friday – Monday.
Be forewarned – this is going to be one of the busiest weekends in recent memory in San Francisco – with other events such as Hardly Strictly Bluegrass, the America's Cup races, a Giants playoff series at AT&T Park, a 49ers game on Sunday at Candlestick, the Castro Street Fair and the Italian Heritage Parade in North Beach. So prepare accordingly. If you plan to be up in San Francisco, public transit and walking may be your best mode of transportation.