World's Largest LED Light Structure Part of Bay Bridge Construction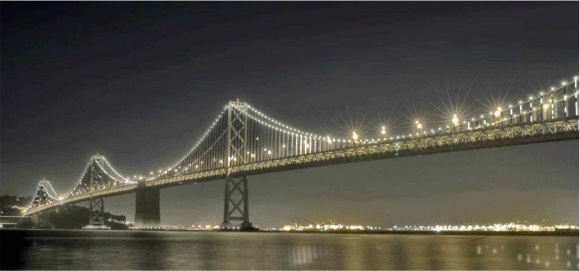 In what can only be termed "a bright idea," the California Department of Transportation is working with internationally acclaimed artist Leo Villareal to create the world's largest LED light sculpture on the western span of the Bay Bridge.
Installation of "The Bay Lights" begins this month with the project scheduled to be completed by next March. The art piece will remain on the span for two years.
So far, organizers have raised nearly 70 percent of the $8 million in private funding needed for the project.
The Bay Lights will feature 25,000 LED lights, be 1.8 miles long and 500 feet high. Among Villareal's high-tech features: all the energy efficient LED lights will be individually programmable and use only $30 a day in electricity. "It's my fantasy project. There have been a lot of bridge lightings, but nothing like this," says Villareal, whose work appears in the permanent collections of museums and in public spaces in New York, Washington, D.C., and Istanbul, Turkey. "I'll incorporate 255 levels of brightness and sequence the lights so that the piece becomes a mirror to its surroundings."
The first LED lights will be installed in October and there are plans for a grand lighting ceremony in early March. The Bay Lights will not be viewable by drivers crossing the bridge but will be from San Francisco and points north.
The Bay Lights was inspired by the 75th anniversary of the Bay Bridge and is a project of Illuminate the Arts, a San Francisco-based organization dedicated to the creation and presentation of community-activating public art.  The new Bay Bridge is scheduled to open Labor Day weekend 2013.
Photo Credit: Artist Rendering via The Bay Lights