Chippy, Stop – 5 Low and Highlights of Chippy Nonstop's Public Works Show
Being backed by some of the hottest players in music and riding coattails can propel an artist's image but when it comes to recorded music and the live performance, true colors show. After spending the summer in New York, Chippy Nonstop's back in the Bay to unnecessarily steal the mic at a party near you.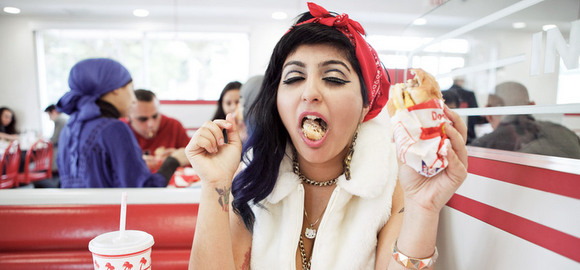 Chippy Nonstop, a name creatively coined from her love of eating chips all the time, is an aspiring pint-sized rapper from Oakland. Running with the talented boys of Trill Team 6, she's been given amazing opportunities for a rising artist but never fully delivers due to a lack of true charisma.
With Kreayshawn's debut album Somethin 'Bout Kreay set to be released this Tuesday, September 18 – almost a year and a half after her first SF show at SOM – it's an easy opportunity for comparison, especially since the two have collaborated. Where Kreayshawn was built on her own creativity and vibe, Chippy struggles like a chameleon to decide on whose style she's currently replicating.
Chippy performed last night in the loft at Public Works with Brooklyn's Pictureplane, rapper Antwon and local music mastermind and DJ ChaunceyCC. Here are the 5 things you missed:
Mic check is key when performing but it takes the artist showing up before the show. It wasn't clear whether this step was skipped but the vocals were completely muddled. It was hard to make out Chippy's awkward flow and obnoxious lyrics.
The supporting DJs and acts were on point and the obvious show highlights. After throwing 'bows to trap remixes and lots of Waka Flocka, there was a mass exodus during Chippy's performance. Luckily, when it was over the dancefloor filled back up and got wild. Antwon later delivered a solid set with smooth flow and smart lyrics.
Chippy's producer Nanosaur is one of the hottest in the Bay and – if he isn't already – will be making tripped out beats for big players in the rap game in no time.
Crowd participation is key for a good performance and the lack thereof during Chippy's set was laughable. The only thing that got the hands in the air was when she flung herself into the audience for a weak stage dive.
The loft at Public Works is one of the best spaces in town to catch a show. Where else can you sip Jameson in an indoor tree house overlooking a live dancefloor and listen to based trappy house music?
Check out my review of Kreayshawn's first SF show at SOM in May 2011 here.