Noming, Banking and Surfing at ING Direct Cafe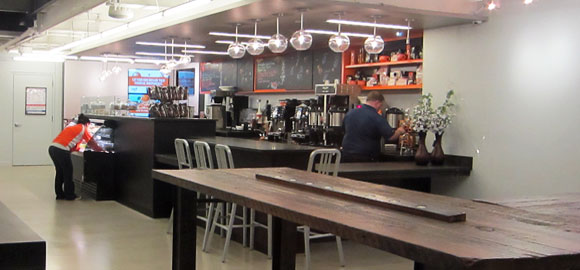 San Francisco's first bank cafe internet hybrid branch opened earlier this year at the corner of Post and Kearny streets. ING Direct's new branch combines a coffee shop with assorted comfy seats, 3 floors of public meeting space, free internet, and unobtrusive banking service agents, into a bank like you have never seen before. For example, iPads replace teller windows.
ING Direct Cafe is the latest evolution of the banking industry's effort in developing friendly community style spaces. A few other banks are opening similar internet cafe branches around the country. The first examples of this trend appeared years ago, with Starbucks Coffee shops combined with Wells Fargo banks, followed by adding small Wells Fargo branches inside Safeway stores. There are only 8 such ING cafe branches in the country. The other 7 lucky cities are: Chicago, Honolulu, Los Angeles, New York, Philadelphia, St. Cloud, and Wilmington.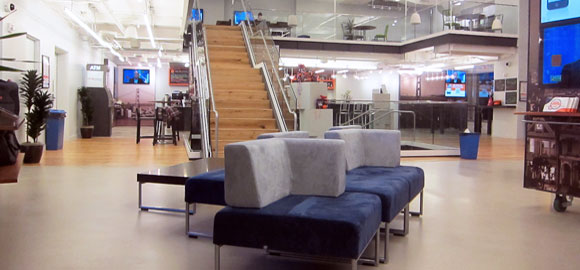 ING Direct is known for offering good interest rates on savings accounts. And the lunch menu prices at the cafe are pretty reasonable too. A cup of soup for $2, and prepackaged sandwiches, salads, or wraps are $6 each, all supplied by chef Eric Rud from the Eat Curbside food truck.
Those who like to snack while surfing the web, can munch on Kashi bars for $1, cookies and bagged chips for $1.50 each, Cliff and Luna bars, vegan and gluten free pastries, and yogurt at $2 each, plus dessert parfaits for $3.
The coffee shop uses Peet's brand coffee, and all the drinks are affordable as well. Black coffee, hot tea, iced tea, soda, or bottled water for $1 to $1.50. Espresso, au lait, macchiato, con pana (with cream), americano, and other drinks like Mexican Coke or sarsaparilla are just $2 each. Extra shots of espresso or flavor are $.50 each. And a latte, cappuccino, or frio (iced coffee) is $3.
Customers also get 50% off on coffee drink refills, when using an ING Direct Mug. The bank is open weekdays from 7 am to 6 pm.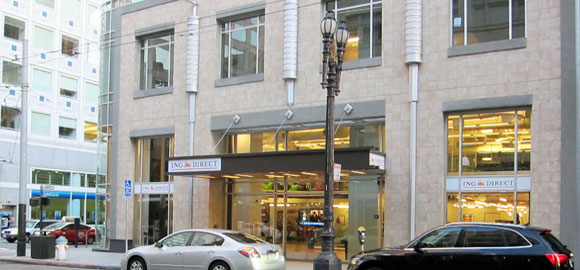 Photo Credit: Luis Chong