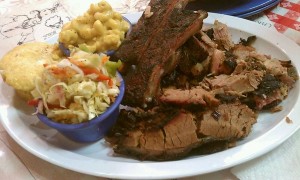 Let's talk BBQ. Specifically let's talk BBQ here in San Francisco. Our fine City By The Bay may be known for many things, but let's face it: BBQ typically isn't one of 'em. Nonetheless, there are a number of fine restaurants peppered throughout the urban landscape that provide some sensationally smoked meats. Here are the top three…
Memphis Minnies (576 Haight Street): This Haight Street hangout is responsible for the best brisket in town, and some would claim on the entire West Coast. I'm not ready to put forth such bombastic claims, but I will say that they have some incredibly robust flavor, benefiting from the slow and low style of cooking that produces a tender and juicy slice of beef that isn't as dry as brisket can often tend to be. The pulled pork and ribs are also continual favorites. Get some to go and bring it across the street to Toronado so you can wash down the city's best BBQ with the finest selection of craft brew imaginable.
Sneaky's (1760 Market Street): This popular pop up inside of Rebel is all about the dry rubbed baby back ribs. Full of zest and not swimming in sweet sauce that typically drowns out the flavor of quality meat, the cooks here know a thing or two about southern cooking. The pork belly is another must try and make sure that whatever you get, you enjoy a fresh oven-baked piece of cornbread along with it. What's BBQ without cornbread?
Southpaw (2170 Mission Street): The new kid on the block brings BBQ–and so much more–to the unlikely destination of the Mission. This place gets serous bonus points for having their very own brewery and for taking traditional classics and adding their own distinct spin. Their 'Nachez' for example is a take at traditional nachos, only using homemade potato chips topped with black-eyed peas and their succulent brisket. They also do a badass roasted chicken, juicy and crisped to perfection and there's a surprising array of seafood like fried oysters or catfish. Big on flavor and diversity, Southpaw brings some unexpected flavors to this part of the city.