Bringing the South to the Presidio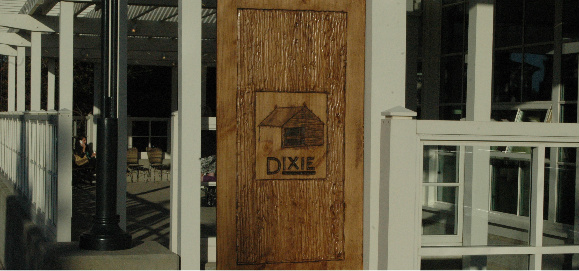 While the opening may have been delayed a few months (not a new thing in San Francisco), Chef Joseph Humphrey is set to launch his highly anticipated restaurant Dixie in the Presidio.
As we mentioned a few months back, Humphrey, formerly at Murray Circle at Cavallo Point, was looking to create a restaurant that was an ode to his ties in the South. The building, part of the complex at Letterman Drive, is massive in size with numerous options for diners. There is a bar area, lounge seating, a main dining area, private dining room and eventually, patio seating as well (hopefully with fire pits included). There are also a scant few seats in front of the large kitchen as well.
While the space is large in size, it is not too large. By that I mean there is not a lot of empty space; it doesn't feel cavernous. It is definitely on the comfortable side with plenty of space for large parties or just a couple to dine in. The design is modern, but gives off strong southern vibes with the artwork on the wall. Call it casually hip, Dixie is a place where the food is the star, but the ambience and environment are sure to win guests over immediately.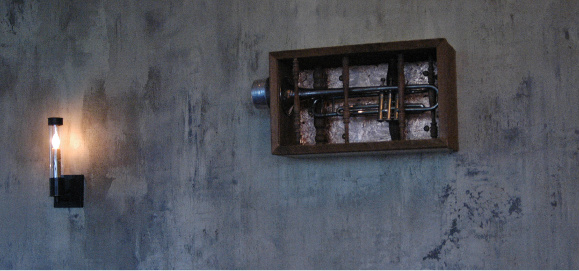 Now, on to the menu. There is a heavy southern influence but with all the fresh produce and ingredients that one comes to expect from "California cuisine." The bar menu includes small dishes like shaved country ham, deviled eggs, smoked cod rillettes, gulf shrimp, cheese curds and pork cracklings, all under $10. Oysters, both raw and fried, will also be available. Starters ($12-15) are mainly soups, salads and veggies (although the chicken fired quail, roasted garlic waffle, spicy cabbage salad sounds pretty amazing). Mains are $25 and under and featured items include chicken and dumplings, roast duck and rabbit and wagyu beef with grits. There will be plenty of dessert items as well. Diners will be able to choose from the a la carte menu or sample several dishes as part of the tasting menu from Chef Humphrey. One of the main features of the lunch menu will be the po boy of the day, sure to be a popular item among the early afternoon crowd.
Expect the drink menu to evolve as the restaurant does. Initially, the cocktail menu includes the Dixie Old Fashioned, The Derby Cooler, Strawberry Mint Julep and Terroir Fizz among others. Humphrey told us earlier that he wants the bar and cocktail menu to play a huge role in the restaurant, including possible tableside service and a social hour.  Bourbons are going to be a big featured item.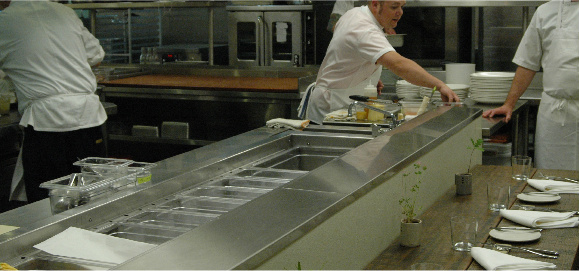 Dixie is located at One Letterman Drive (Chestnut @ Lyon) and will be opening on Tuesday night, May 29 with hours and days still to be determined. A sneak peak of the bar, dinner and cocktail menu below.
Cocktails
The 2 Ben's
A Pint of Guinness (what my Dad, Ben Jr., liked) & a shot of Jack Daniel's (because that's what my grandfather, Ben Sr., had in his morning coffee)
Dixie Old Fashioned
Smoked Sopchoppy Sugar Cane Syrup, Orange & Cherries, Jim Beam Rye, Angostura
The Derby Cooler
Buffalo Trace Bourbon, Ron Matusalem Rum, Orange, Lemon, Grenadine
"Terroir" Fizz
St. George "Terroir" Gin, Lemon, Lime, Cointreau, Lemon Verbena, Egg White, Sugar
The Preakness
Ballentine's Scotch, Black Tea Tincture, Benedictine, Angostura
Strawberry Mint Julep
Mint, Strawberry Syrup, Maker's Mark Bourbon, Angostura
The Shade Tree
Ketel One Citreon, Chai Syrup, Lemon, Peychaud's, Soda
Bar Menu
shaved country ham $8
today's charcuterie $9
deviled eggs, fried chicken liver, horseradish $7
calas…jambalaya flavor $6
cheddar & scallion hushpuppies, tupelo honey $8
smoked cod rillettes, buttered brioche $6
gulf shrimp, grilled & glazed with sopchoppy sugar cane syrup $7
pimiento cheese curds $6
pork cracklings, szechuan peppercorn & nori salt $6
Oysters
marin miyagis, raw… hot pepper vinegar $6
drakes bay, fried… creamed cress & pickled onion $8
hog island sweetwaters, smoked.. carrot, tarragon $7
one of each…$10
Starters
asparagus & grilled maitake salad, pecans, parsley, cocoa nib salt $13
beets, pickled & lightly smoked…their greens, ricotta, sumac $14
green garlic soup, abalone, butter lettuce, gumbo filé $15
little gem, chicory, & cress salad, shaved tasso ham, creamy shallot dressing $12
chicken fried quail, roasted garlic waffle, spicy cabbage salad $15
baby artichoke salad, grilled andouille, parmesan $14
english pea salad, cured salmon, szechuan peppercorn, mendocino seaweeds, bonito $14
Mains
roast pork, butter beans, spicy pickled eggplant $22
black cod, apple, bourbon, & red miso… leeks, farro, buttermilk $22
roast rabbit, bacon, sweet onion, smoked date, little gems $23
chicken & dumplings, the DIXIE version $24
wagyu beef, yellow grits, buttered green beans, roasted shallot $25
collard green tortellini, smoked onion relish, aged cheddar $21
halibut with sassafras, fennel, orange, sugar snaps, sea urchin remoulade $23
roast duck, turnips, mustard, risotto…dirty rice style $25
Dessert
chess pie, strawberry sorbet & meringue, szechuan peppercorn $7
coconut layer cake, slow roasted pineapple, candied
macadamia nuts $8
roasted peaches, gingerbread, whipped buttermilk, basil granite $7
dark chocolate & bourbon mousse, chocolate olive oil cake,
crème fraiche sherbet $9
UPDATE: Dixie's lunch hours are Monday-Friday, 11:30-2:30, Bar hours are from 11:30-11:00 pm (till midnight on Friday/Saturday), Dinner seven nights a week, 5:30-10:00 (until 11:00 pm on Friday/Saturday).