Dita Von Teese Brings Strip Strip Hooray to The Fillmore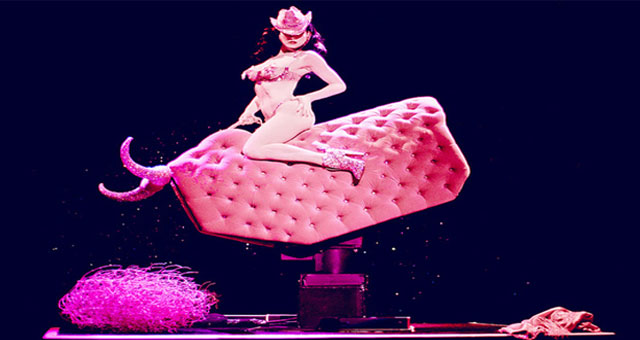 After 20 years of modeling and performing, Dita Von Teese is the modern-day ambassador of all things burlesque in the U.S. and abroad, but until recently her live performances were limited to private events and infrequent one-off engagements.
That changes with her new Strip Strip Hooray tour, featuring a 90-minute burlesque show at venues that traditionally host mid-size rock concerts. She brings the show to The Fillmore for two sold-out performances on May 21 and May 22 after kicking off the tour earlier this month in Los Angeles. We spoke with her during a phone interview.
You just wrapped up the first two nights of the tour in L.A. How did it go?
It went great—two sold out shows with a wild ruckus audience. Everyone is really excited and it got really good reviews.
I read on your Twitter feed that a couple got caught having sex in the bathroom.
That's right. During intermission right after I ride a mechanical bull, apparently a couple got ejected, which is not what I wanted. They got removed from the show due to venue policy, which is a shame. I think they should have gotten an award.
Is that a first for you?
I don't get to see what's going on in the shadows of the audience, but I'm sure it's not the first time.
So, why do the tour now after 20 years of performing?
Over the past 20 years, not only has my show evolved a lot, but the burlesque scene has evolved and the audience is a lot more vast than what it once was. Over the past seven or eight years, I've been doing so many private parties—from Louis Vuitton to the Cannes Film Festival. I've been doing a lot of shows in Europe and for the fashion crowd and the elite. I want the energy that comes from the real fans and people who buy tickets.
It must be a big difference between the crowd at a high-fashion event and a rock 'n' roll venue like The Fillmore.
It's cool to walk out and have Francis Ford Coppolla, George Lucas and Steven Spielberg sitting there staring me right in the face, but it's totally different from people screaming wildly and seeing girls that are all dressed up to see me. They understand what burlesque is about. I've had to give lessons about burlesque at a lot of VIP shows.
Los Angeles has a big burlesque scene and SF has events every month…
I think San Francisco and New York are the biggest places in America for burlesque.
Have you connected much with the scene here?
I used to do a lot of shows with all the girls from Tease-O-Rama, so I have a lot of Friends up there. It's one of my favorite cities to visit. I've taken a lot of time to just go there and have fun. It's been awhile since I've performed for the public there.
Do you have any favorite spots to visit when you're not working?
I like to hit my favorite vintage stores. I like this place called Torso Vintages. La Rosa is another place where I find great things. I love this jewelry story called Lang Antiques. When I came up there, I was sort of lost in that store for hours.
I always love to eat up there—going for good dim sum. There's always something to do in San Francisco. For me, it's always been a happy hunting ground for sharp-dressed men.
I'm sure our audience will be happy to hear that. Do you think burlesque has reached a new height in popularity?
I think so. In the past two years, it's really reached a pinnacle point. Yes, everybody knows what this word "burlesque" is, but it's getting to the point where it needs to be accurately shown. People get a little bit confused when they sit down to see a movie call Burlesque and there's no burlesque or striptease in it. That movie kind of gave us a little setback.
Burlesque is not singing and feather boas. It's adult entertainment and it always will be, despite peoples' efforts to sanitize and capitalize on it. I'm just trying to stay true to the history of American striptease and burlesque. Why do we have to take away all the risqué parts to make it ok for people? I'm not interested in anything like that.
I read that somewhere that you think the song "Fever" should be banned from being associated with burlesque.
(Laughs) Yeah, there are a lot of burlesque clichés. "Big Spender" and "Fever" are the first songs that anyone who has the brilliant idea to try burlesque reaches for. It's so much more than that.
The LGBT community has embraced burlesque. How has that impacted the genre? Do you take that into consideration when you are performing for a crowd that might be half gays and lesbians?
I think it's the highest form of flattery to capture the attention of gays and lesbians, so of course, I'm thrilled with that. But, generally, I just keep doing what I'm doing and I hold myself to my own standards of perfection and what I think is sexy. The only way you can be sexy is to do what you think is sexy. You can't think about what everybody else wants to see because then you look like someone who is trying to be sexy for somebody else. I'm super happy and flattered and I feel lucky that they come to my shows.
Let's talk about your car collection. You have a few classics, right?
Right now I have three; I sold two others recently. I have a 1946 Ford convertible, a 1939 Packard and the car I drive the most is my 1953 Cadillac Fleetwood. It's call Steel Xanax because every time I get in I'm totally calm and soothed.
There's no shortage of press or opinions about you online. What do people most often get wrong?
I think the only thing that really bothers me is sometimes people don't really understand that I'm not someone who just shows up and performs. I do a lot of stuff myself—I put rhinestones on the outfits, I paint and I produce a lot of this myself, which is not normal for a lot of people. I've got almost $500,000 invested in this show. It's easy for people to dismiss me and say, "she's just a stripper." I'm fine with being called just a stripper, but there's a lot of work, devotion and obsession that goes into doing what I do.
Dita Von Teese performs with the Strip Strip Hooray Tour on May 20 and May 21. Tickets are sold out. Top image by Kaylin Idora Photography