Giants Have Plans For Neighborhood Surrounding Ballpark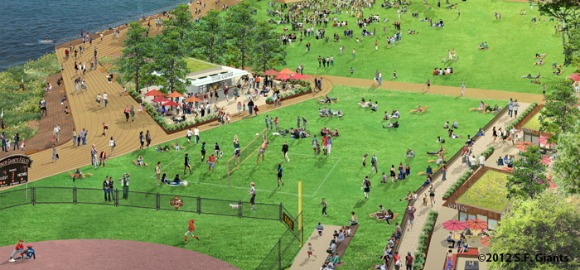 The San Francisco Giants have plans in the works to develop a parking lot near AT&T Park into a major residential, office and retail development.
The $1.6 billion project would be located at Mission Rock, a site across from McCovey Cove, where a parking lot for the ballpark currently sits.
The plans include about a thousand residential units, up to 1.7 million square feet of office space, stores and restaurants and eight acres of open space. If approved, construction could begin as early as 2015 at the 27-acre site. Pier 48 would also be revitalized and a parking garage would be built on the southern end of the property. There is also the possibility that the Golden State Warriors could eventually move to an area near the site.
"Mission Rock will be one of the largest urban mixed use projects in America and will become an enormous economic boost for our City," said San Francisco Mayor Ed Lee. "It will create thousands of construction and permanent jobs and hundreds of millions of dollars in tax revenues while creating much-needed housing and open space for a growing neighborhood and office space for companies starting or expanding in San Francisco."
The Giants are funding half of the project while Baltimore-based real estate developer The Cordish Companies would fund the other half.
The project would bring an estimated 4,800 temporary construction jobs and 6,900 permanent jobs to the area.
Initial plans have been submitted to the Port of San Francisco and are expected to make their way through the approval process over the coming months and years.
Photo Credit: San Francisco Giants