Opera with a Dash of Young SF Culture
ODC Theater presents the world premiere of Jack Perla and Rob Bailis' opera LOVE/HATE, a story of two strangers who meet at a bus stop and the feelings that develop from there. The opera will only be shown in the Bay Area for three days on April 12th, 14th, and 15th.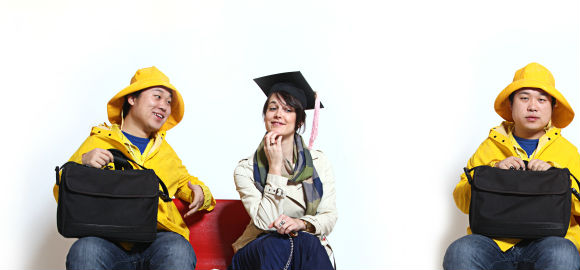 This show is not the traditional opera that automatically pops into most people's minds. As Perla points out, "The byline says, 'Nobody dies in this opera.'" It is a comedy as opposed to the stereotypical tragic opera that we are all used to hearing about. Also, this show will appeal to San Franciscans because there is a definite sense of San Francisco embedded into the story. For instance, there is referencing of the typical San Francisco fog rolling in that any person living in the Bay area has grown accustomed to, or the mentioning of the MUNI bus stops that can be spotted all over the city . Also, the characters' themselves bring a sense of San Francisco to the stage. Their back stories, how they have wound up in the city, and then eventually how they meet up all has a feeling that seems true to the real San Francisco.
The pace of the show will not feel as slow as many traditional operas of the past either. Peralta says, "It's very television influenced in the way it's put together. It jumps from situation to situation rather quickly. The tunes are catchy and it has immediate appeal." Perla and Rob Bailis spent a lot of time in Perla's studio collaborating on the opera, so the story and music would ultimately fit well with each other.
Be sure to stay after for the post-performance discussion that will be hosted by the San Francisco Opera Center Director Sheri Greenawald. According to Perla, "She will discuss the show from the standpoint of what makes it compelling as a piece of music theater. And because she runs one of the most important vocal training programs in the country, I'm sure she'll also touch on what it's been like for the singers to take on the show." This will be a time to enlighten the audience on key aspects inside and outside of the actual storyline of the show. After the three shows in San Francisco, the show will later be presented in New York, Philadelphia and Houston.