Preview: Young Prisms @ Bottom of the Hill
This week San Francisco's very own Young Prisms released their sophomore album In Between and it is already receiving a significant amount of attention. Having recently formed into a quintet, the group will play a stacked hometown show for the album's release this Saturday (3/31) at Bottom of the Hill.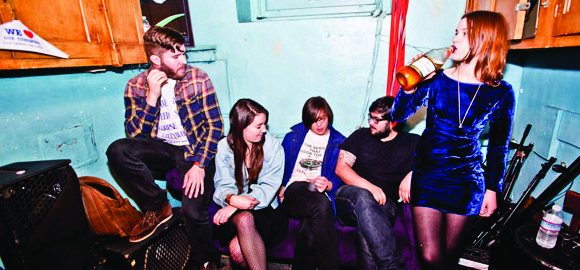 Shoegaze quintet Young Prisms will celebrate the release of their second album In Between, put out earlier this week on Kanine Records, with an album release show this Saturday March 31st at Bottom of the Hill. The name of the new album fits well with what the band was going through during the recording process having been forced to replace ex-member Jason Hendardy and shuffle the lineup. However since the beginning of the year the group has already been extremely busy with a flurry of showcases at SXSW and a headlining show at this year's Noise Pop.
Opening the show will be indie rock group Terry Malts who have shot into the national indie spotlight following the release of their new album Killing Time which received favorable reviews by national publications including Pitchfork. Also on the bill for Saturday is Cold Showers, Cool Angels, and a DJ set by Weekend.
Young Prisms – "Floating In Blue" Video from stereogum on Vimeo.
Young Prisms play Bottom of the Hill on Saturday, March 31st with support from Terry Malts, Cold Showers, Cool Angels, and Weekend (dj set). Doors are at 8:30pm and the show begins at 9:00pm. Tickets are $10. 21+