Kool Kid Kreyola Says Enter 'The Belly of the Beast'
Gadding about town, it's hard not to stumble upon the sticker bearing the insignia of artist Kool Kid Kreyola aka Erlin Geffrard—it definitely catches the eye.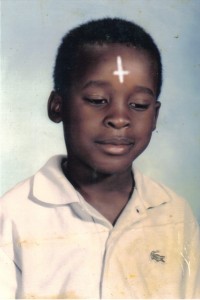 Geffrad, a first generation American of Haitian descent, has adopted the acronym KKK as his performance namesake, and has spoofed the historical symbol of racism in the American South to draw attention to contemporary preconceptions and cultural biases.
Satire is a key element of Geffrad's work; the role of religion in shaping one's identity is another theme he explores, coming from a family steeped in the Voodoun and Baptist traditions.
While his past work spans music, video performance, craft and painting, Geffrad's latest exhibition is geared towards installation and performance art. The interactive "Belly of the Beast," asks the viewer to participate in his re-appropriation of cultural, political, and historical allegories to "embrace their own divine birthrights."
The gallery opening will be Saturday March 17, from 7 pm to 10 pm at Gallery Heist. For more artwork, see his personal site.