Lucky Strike Set to Drop the Pins in SoMa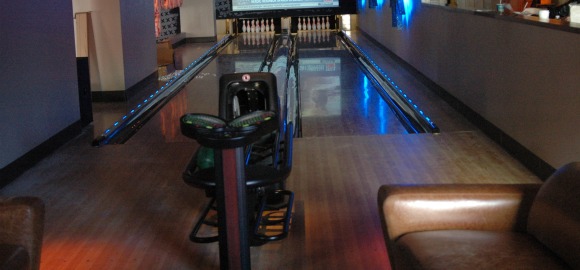 The lanes are getting their final waxing, the pins are being put in place and the bowling balls will be ready to roll as Lucky Strike Entertainment gets set to open its newest location this week in San Francisco. But it's not all about the bowling.
Lucky Strike CEO and Co-Founder Steven Foster said he envisions the space right across the street from AT&T Park as a "gastropub" with all the entertainment options that any group or party would need.
"It's not just a bowling alley. There will be so many other things for people to do," Foster said. "There's pool, ping pong tables, a quiz game, two bar areas and a full menu of food and drinks."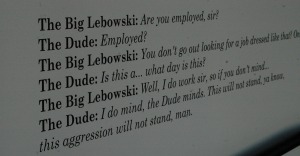 With the help of Southern California designer Ray Azoulay, the space showcases both the past and present, with quotes and pictures from "The Big Lebowski," a giant portrait of Albert Einstein (part of the quiz room/trivia area known as the Einstein Room) , huge projection screens and all the modern amenities that customers would expect from one of the premier franchises in the country.
Foster said the idea for Lucky Strike in San Francisco has been a long time coming. "There is no more fitting place for this than in San Francisco," he said. "And I think we have the perfect location. The proximity to the ballpark will be a draw for fans who are going to the Giants game. But our brand will also draw people to the neighborhood, even when the team is out of town or in the off-season."
It also doesn't hurt that San Francisco Giants closer Brian Wilson has come on as partner/owner for the San Francisco chain. "I am amped to be on board with Lucky Strike. The concept – from the ambiance to the food to the energy – is edgy, crafty and unique," Wilson said in a statement. "I am pumped to be in the Lucky Strike mix and am honored that lane 12 will be renamed lane 38. I love that number, and I expect to roll many massive strikes on that lane. See you there. The Dude abides."
All told, there will be 12 state-of-the-art bowling lanes and also, a smaller private room, which will serve well for functions, parties or business outings. The full bar and restaurant will feature fondue, shared table items like guacamole and chips and chicken wings, an array of sliders, tacos and sushi and homemade Belgian Fries. The Einstein Room will also feature its own mixology bar.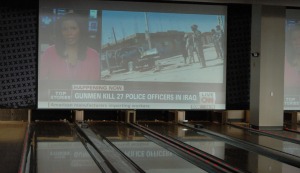 Lucky Strike will be open to the public on Friday, March 9. Located at 200 King Street, the expected hours right now are Sunday-Wednesday: 11am-midnight, Thursday: 11am-1am, Friday & Saturday: 11am-2am.