Noise Pop Art: Death Cab For Cutie and John Vanderslice
Bottom of the Hill's house photographer shares some of his favorite images in a small collection featuring indie favorites John Vanderslice and Death Cab for Cutie.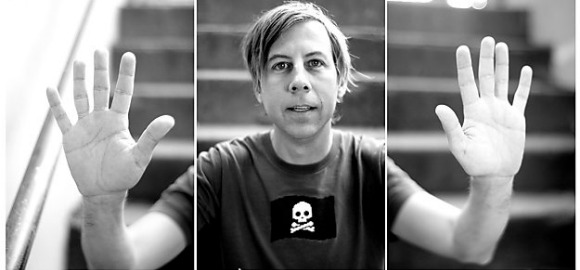 Self-taught photographer Peter Ellenby has been taking pictures at Noise Pop for nearly two decades and capturing portraits of John Vanderslice and Death Cab For Cutie for about 15 years, beginning back in 1997.
For his solo show, DC/JV, at 1314 Space at San Franpsycho, the collection is comprised of mostly black-and-white portraits arranged in sets around the modest-sized room. One set features simple, face-on portraits of Vanderslice and each of the four members of Death Cab For Cutie. In these, Ellenby captures a kind of humility in each of the musicians. In another set, photos of the band sandwich a shot of Vanderslice. Each guy is standing with their hands up, palms facing forward. For a moment the uniformity in the set is a distraction from the juxtaposition of the photos.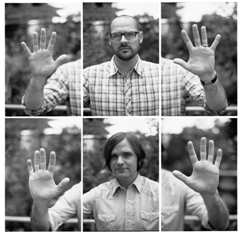 Ellenby's favorite piece in the collection is a 2009 photo of John Mellencamp on what looks like blown up and severed piece of pastel film exposure. Death Cab For Cutie also receives the same, pink-blue water color treatment with fading, overlapping and double exposures creating a dream-like effect.
In addition to just being an awesome, little collection, the show is also a celebration of the 20th Noise Pop Festival, which takes February 22- 27. For anyone who can't wait for the sonic festivities later this month, Ellenby's show might be good way to tide over a craving.
An additional reception will be held on February 23 during the week of Noise Pop.
DC/JV
Death Cab for Cutie and John Vanderslice Photographs by Peter Ellenby
1314 Space at San Franpsycho