Five Questions for Chef Gustavo Romero
Gustavo Romero is the Executive Chef at Credo in the Financial District. Find out why he decided to become a chef and who he'd love to battle on Iron Chef America.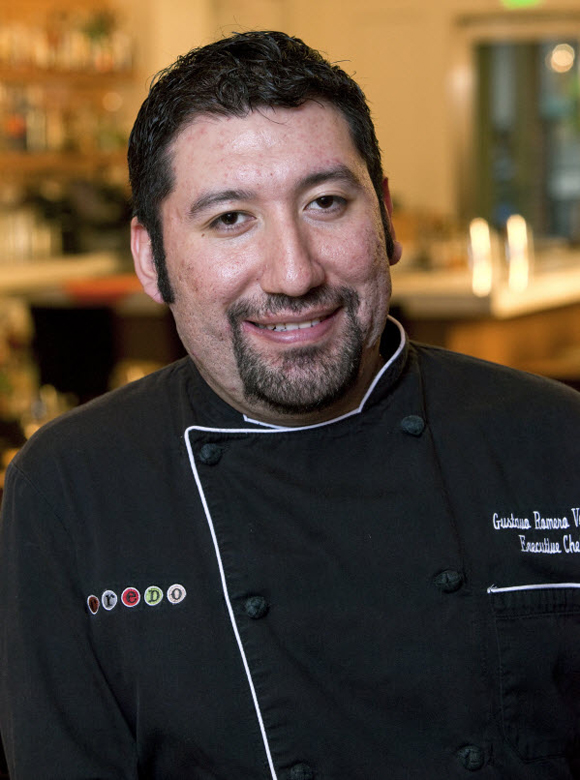 1. How did you decide to become a chef?
While growing up in Mexico, my mother and grandmother were always at their happiest when they were in the kitchen, singing and cooking. When I moved to the United States and longed for home, I realized cooking helped fill the void. It wasn't long after the move that I decided I wanted to make it my career. I draw tremendous inspiration from all of the great chefs I've worked with in the past and I can't overstate how much I enjoy the creative side of my job.
2. What is your favorite sign/quote on the walls of Credo?
My favorite quote out of the hundreds in our restaurant is from Jack Nicholson: "The minute you are done learning, I believe you are dead." I appreciate it because I think he's right; what could be worse than reaching a point when you're no longer learning and growing as a person? Being dead, I suppose…
3. If you had to cut down the Credo menu to just three items, what would they be?
Our menu changes seasonally, but working from our current menu, the items I would keep would be: Fonduta del chorizo, it's a classic dish that represents my Mexican heritage, Korobuta pork osso bucco, because my last mentor was Italian and taught me the best way to cook osso busso, and the Maiale Amor which is a pork confit and pork belly sandwich, only because it's so tasty. (Yeah, I guess I have a thing for pork.)
4. When you're cooking for friends and family, what is your signature or favorite dish to make?
Mole the way my mother taught me. After years of working with different chefs and learning their secrets, I still believe that this is the best secret I have learned from the best chef I know.
5. If you had the chance to go on one cooking show (either a contest like Top Chef or being a guest on someone's show), which would it be and why?
I'd have to say Iron Chef America. It's the only show that features real competition, without focusing on the manufactured drama of a drawn-out elimination process. Also, the winner isn't based the on the idea that the judges are crowning "the best chef." It's based on the idea that the winner was more creative and proficient with the ingredient involved. I'd love to take a shot at beating Morimoto. Competing against someone that great would be an honor.