The 108-110 beats per minute reggaeton and Dutch house hybrid moombahton took the dance music world by storm in 2011 and shows no signs of slowing. As one of the most dynamic and entertaining producers of the genre, Baltimore native Jon Kwest is excited to bring the moombahsauce to SF's ears.
Jon Kwest is about to drop a new EP, check out the preview mini mix below while exploring his Baltimore roots, recent producer drama and more.
Jon Kwest "The Last Don EP Mini Mix"
You live in DC now, where moombahton originates and dominates. Did you grow up there?
I was born and raised in Baltimore and stayed there until I was about 26, moved to Philly, was there for six or seven years and just moved down to DC a couple months ago.
You worked in a record store in Baltimore for a while, what was that scene like?
Yeah, it was called Music Liberated. It shut down about 8 years ago when the owner died. It put out all the Baltimore Club stuff, at least ninety percent of what was coming out at that time.
I managed for about 3 ½ years, was the head buyer and did phone sales, which predate online sales. We'd have to play records for people over the phone—Baltimore club records primarily because it was the only place to get them.
We'd get pretty interesting people. Afrika Bambaataa came in on a regular basis, Biz Markie and Frankie Bones. Anyone who ever DJed came through at some time looking for Baltimore club records. You could find anything you wanted there, basically.
You've also produced a lot of Baltimore club?
I've kind of always done the club stuff as well as house and hip hop. I was pushing drum 'n' bass pretty hard in the late 90s, early 2000s, but I always kept with the Baltimore club since I grew up with it.
Right before moombahton that was primarily what I was focused on. I don't do as much club as I used to, but I'll go through spells where I pump a bunch out.
As one of the first producers putting out a lot of moombahton, what in particular drew you to that style?
It really was the tempo, exploring something slower. I was messing around with slower stuff for a long time, just never really had a place to push it. Basically, I didn't really have the standing to decide that was an angle I was going to work single-handedly and make some kind of slow temple music. It wasn't completely slow like moombahton, more like disco breaks, roller skating music. This is a lot better to me, the idea was a lot more thought out than anything I had been messing around with.
You've released a lot of moombahton compilations, what leads you to do that more than dropping random tracks?
Everyone does remixes and re-edits all the time and it just seemed like taking the current hit dance record wasn't much of a challenge. I feel like there are other areas that people don't touch. The first one was UK hardcore, the second one was Native Tongues, and it's all the stuff that I think is really important and what everybody grew up on. 21 year olds, probably didn't have any exposure to it. I look at it as reintroducing the things that got us to where we are now.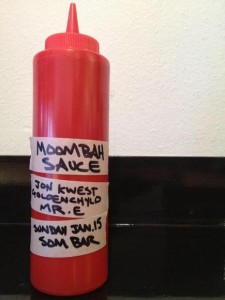 Recently you released a moombahton compilation featuring jungle and drum 'n' bass tracks, which caused some drama in the producer world. What happened?
A producer of an original song remixed didn't care for the way it was gone about, felt like it was tacking his name onto our project to get attention. It wasn't my intent; I was doing it to introduce that music to younger kids. Drum 'n' bass wasn't even hugely popular in its height here.
It was all done as respect and homage. Everyone's entitled to their opinion, they can like it or not. I don't put their names on to steal shine off of them, it's the opposite. I want someone to listen to it and if they like it, they're probably going to go YouTube it and listen to the original.
I didn't expect such huge backlash. There were only a few tweets sent from the UK during the night in the US, but everyone's reaction made it a big deal. The whole thing was squashed within hours and it was over with, but everyone else decided to go on about it.
What are you looking forward to about coming to San Francisco?
Everything. I've never been there and anyone I've ever known who has been there says it's a great place. I like going to cities where people who live there love living there.
Sometimes you get stuck in small towns with nothing to do—10 hours to kill and they can't tell you where they like to go or what they like to do. Being somewhere where people actually want to be is fun. I have some Bay Area songs I'm gonna play, see what peoples reactions are.
Hyphyton?
We'll see.
Wing Wings presents Moombahsauce featuring Jon Kwest, Goldenchyld and Mr. E on Sunday, January 15 at SOM Bar. More info.