One of Australia's most traveled DJs, Anna Lunoe tours the world, bringing her energetic and eclectic dance music vibes to cities near and far. We chatted about how she got her start, the differences between home and America and the tunes she's producing these days.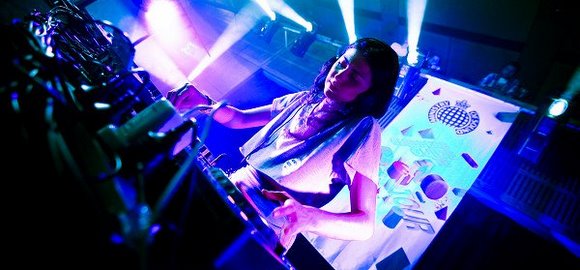 Anna recently played with Digitalism here in SF and will be back in the Bay Area this spring. We caught up while she was in Tulsa, Oklahoma, in the middle of her whirlwind tour of the US.
I didn't start DJing until I knew what style I wanted to play which I think set me apart from everyone else. I had been in America and traveling around, listening to different stuff. When I started I had a pretty good stylistic vision and it was really different to what everyone was playing back home [in Australia].
The music that I was playing became really popular so I became known for pushing that sound and it kind of blew up. When someone needed support for artists like MIA or Dizzee Rascal, I was known for playing that kind of stuff so I was the obvious choice.
Did you have any mentors at home in Australia helping you learn?
Not really. I didn't know anyone in that community, I was more into bands. I didn't really have any dance music connections but I definitely had DJs that I looked up to at home that were pushing the same sound. We kind of all went strong into it together, rose together. Liking the right music at the right time and associating myself with the right people at the right time.
I had a show on FBi radio for about two years before I started DJing. People started suggesting I DJ events and the idea just got in my head. I was secretly reading all these books in my spare time, trying to get a bit wiser about actually DJing because it's never something I thought I could do.
When I was young and in my teens, being a DJ was predominantly still vinyl, the Internet wasn't really a source of music back then. It was only when the Internet and music blogs came along and finding music was more accessible, I just happen to be one of the lucky ones who started DJing at that time.
What are the main differences between dance parties in Australia and in America?
In America, I can play a bit more risky stuff. It's different every gig but when I play here I can go hard and not worry about putting too many hits in whereas the main clubs back home you have to be mindful of keeping the kids interested, you have to be a bit more commercial.
When did you start producing?
I started about four or five years ago but have been really bad about having the guts to put out stuff that I make. I was really shy about it.
I've gotten more serious about making it more of a priority in the last two years. I feel like I have like four releases to get out in the beginning of 2012. It takes about six months to get anything out so it's been quite a process going from a dabbler to getting releases out.
I definitely feel like I've crossed a few personal boundaries and started to sing again. I sang in a couple bands when I was younger and I'm singing again on my own tracks and other people's tracks. In the next year you'll definitely be hearing more of my music.
When you travel around America you're pretty much seeing the whole country, a lot of which people from the US haven't seen themselves. What is it like traveling around the country and getting to see so many different parts of America?
America is amazing. Australia has five main capital cities and if you come there on tour, you'd do a show in each of those and then you might do one or two shows in a regional spot. That's it—seven shows and you're done with the tour.
I think I've done about twenty gigs in four weeks and it's crazy; I haven't even scratched the surface. That's just like being in New York or LA and going an hour outside of each of those places. You guys just have a much bigger country and so many different elements. Going to El Paso was like going to a different country, it was so cool.
I love trying all the food, and always get the promoters to take me somewhere delicious for dinner. I'm a big fan of Sonic milkshakes.
Keep up with Anna Lunoe's schedule and when she'll be back in the area on her website.