As one of biggest moombahton supporters, DJ Sabo brings his world traveling lifestyle to the songs he produces, fueling the fire for one of the most innovative dance music movements in years. This Friday, December 2 catch him mixing the moombah with Braza's afro-latin flavors at SOM.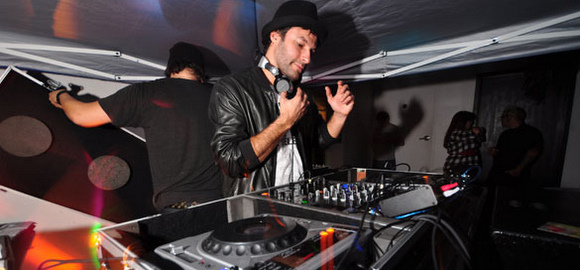 While different styles of dance music pop up regularly, the force behind Latin and Dutch house hybrid moombahton has been running strong for over a year with just about every producer jumping in the game. A strong force in Latin dance music for years, DJ Sabo puts his roots to work on unique productions which play a large roll in his eclectic sets.
The day before he was set to DJ Moombahton Massive IX in Washington, DC, the premier showcase for the genre, we chatted with Sabo about his jet setting lifestyle, moombahton's roots and more.
You're in Maryland with family now, your Twitter says you're from New York City but now you live in Los Angeles. Do you identify yourself with one city anymore or has traveling as a DJ changed that?
I'm from the east coast and grew up in Philly but I lived in NY for 12 years and pretty much did my whole time as a DJ there so I would say that I'm from there. But also happy to be in LA to get away from the cold weather. Twitter still says NYC because some spammer in Greece has @djsabo and they won't change it.
You DJ and travel all over the world, what was the most exciting event you played this year?
I went to Europe and played this Fusion Festival in Germany which was incredible. It was as close as you can get to Burning Man but German style so it was in the woods at this abandoned Russian Army base and a total free-for-all. They had twenty-five stages, Funktion One sound, and this phenomenal lineup of techno and house and I played some moombahton of course. It also rained for 3 days straight so that kinda added to the craziness there with 80,000 people soaking wet in tents.
You have tons of new material uploaded to your Soundcloud and hitting the internet all the time. Are you able to do that while traveling so often?
I start a lot of remixes and songs on planes to get the ideas down and then when I get back home finish it in my home studio. Whenever the inspiration hits I gotta start working wherever you are – trains, planes or automobiles.
Moombahton was born in DC and that's where the Massives are held, at U St. Music Hall. Do you think there's a home to moombahton or is it a global movement?
I think the music itself is global but in terms of the fan base it's definitely DC. The parties we throw there are so incredible with something like 700 people coming out on a Wednesday night which is hard to do anywhere with any type of music.
Nadastrom are from there and then there's other guys like Billy the Gent or Cam Jus, Obeyah, Thomas Blondet, Starks & Nacey – there are so many people there supporting it. I would say that's where it grew up and it kind of just spread via the internet.
Your Twitter says that you're an aspiring chef. So many DJs are foodies, do you think that goes hand in hand?
I don't know, a lot of them are because we travel a lot. I think if you're really picky about food and traveling a lot you're gonna be kind of bummed.
I love food and I love to cook. Most of the DJs I know aren't necessarily food snobs but definitely open minded about it. You kind of have to be if you're traveling around to these crazy third world countries, gotta take some risks.
The moombahton sound has gone in so many different directions with subgenres like the harder moombahcore and softer moombahsoul. Is that something that naturally occurs in any type of dance music or is it unique to moombahton?
I think it's happened to everything, for better or worse. Drum and bass for example started out then got jazzy then got dark then got ragga. For any genre it's about people pulling influence from what they know and grew up on which is then transferred to the music.
Something that I would call house music today I would have never called that 10 years ago.
Off the top of your head, what would be three random moombahton tracks you would play for someone, not necessarily defining the genre but songs that you enjoy.
Billy the Gent x Long Jawns "Vibrate"
Ellen Lovelidge is a writer and DJ, for more on her check out djlilelle.com or follow on Twitter at @djlilelle.