Fifth Floor to Host Holiday Guest Chef Series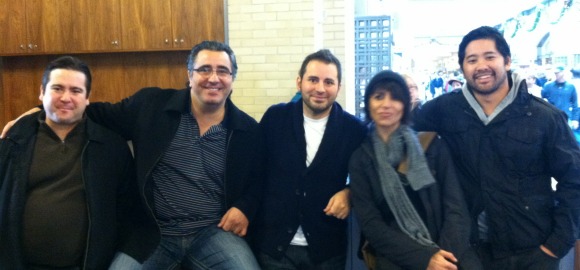 Five different and unique chefs will be taking their culinary talents to the kitchen at the Fifth Floor for a special holiday dining event not to be missed.
From December 5-9, Chefs Dominique Crenn, Jeff Banker, Brandon Jew, Hoss Zare and Matt Accarrino will each be drawing from their own childhood and heritage to prepare tasting menus for diners. A portion of the proceeds from each dinner will also benefit a charity of the chef's choice. The week's festive feasts ends with a meal on Saturday, December 10 by Fifth Floor Executive Chef David Bazirgan, who will be preparing his own special Armenian dinner.
Bazirgan said the event is modeled after an annual event up in wine country. "This was inspired by Christopher Kostow at The Restaurant at Meadowood. Each year they host a Twelve Days of Christmas event with special guest chefs preparing different meals each night. I asked some of my chef friends to participate and we chose five with completely different backgrounds," Bazirgan said. "Each will prepare a meal inspired by how their own culture celebrates during the holiday season."
On Monday, December 5, Dominique Crenn from Atelier Crenn will offer up an array of French cuisine; Tuesday will be Jeff Baker from Baker and Banker with an ode to Jewish food; Wednesday, Fifth Floor will host Brandon Jew from Bar Agricole with his own holiday take on Chinese cuisine; Thursday will be Chef Hoss Zare from Zaré at Fly Trap with Persian food and Friday will be Matt Accarrino from SPQR with a holiday Italian menu. 10 percent of the proceeds will go to a charity of the chef's choice.
Bazirgan said the event shows how close knit chefs in San Francisco truly are. "Each dinner has a unique chef with a unique background. There will be really different flavors showcased throughout the week," he said. "I will be collaborating with each chef on one or two of the courses each night. It has been a great learning experience working with them on the menus and getting a further understanding of their culture through the food we are creating."
Each tasting menu will be $95 (exclusive of beverages, tax and gratuities). Dinner seating will be staggered throughout the evening.
Here is a sample menu from each of the guest chefs:
Monday, December 5: Dominique Crenn from Atelier Crenn
Proceeds benefiting Mali Kalsanso, providing education to children in Mali, West Africa.
Oysters Lightly Poached
mirin, tapioca pearls, lemon "cloud," sake gel
Foie Gras and Winter Nuances
Wagyu Beef Tartare
smoked pearls sturgeon and its condiments
Nourmoutier Turbot
black truffle, lettuce, potato, vin vaune-lobster jus
Whole Roasted Goat
smoked goat's milk, beet meringue, lentils, crispy quinoa
Bouche de Noel
Tuesday, December 6: Jeff Banker from Baker and Banker
Proceeds benefiting Meals on Wheels San Francisco, delivering nutritious meals to homebound seniors.
Matzo Ball Soup Dumpling (amuse)
Pike Mackerel Crudo
Manishevitz salt, fresh wasabi, green apple
Chicken Liver Pate
challah toast, Armagnac soaked prunes
Smoked McFarlands Springs Trout
potato latke, pickled beets, shaved fennel, horseradish crème fraîche
Liberty Farms Duck Breast
schmaltz béarnaise, kasha varnishkes, caraway-onion glass
Sweet and Sour Beef Short Ribs
braised cabbage rolls, glazed baby radishes
Spiced Pear Sorbet (intermezzo)
gingerbread
Preserved Pluot Jam Doughnuts
cardamom cream
Wednesday, December 7: Brandon Jew from Bar Agricole
Proceeds benefiting the SF Child Abuse Prevention Center, dedicated to the prevention of child abuse and neglect.
Pu'er Tea Eggs with Caviar
Raw Spot Prawn and Logan Salad
buddha hand citron
Textures of Cabbage
satsumas, fried shallots, tofu, sprouts, charred scallion
Chicken Wonton Soup
pea shoots, winter melon
Nantucket Bay Scallops
gai lan, fermented black bean , ginger emulsion, sesame oil
Stuffed Quail
sticky rice, Chinese sausage, dates, shitake
Roasted Persimmon
chestnuts, black sesame ice cream
Thursday, December 8: Hoss Zare from Zaré at Fly Trap
Proceeds benefiting Mom's Against Poverty, dedicated to serving and supporting children living I poverty.
Olivier Salad
lamb tongue, lobster, purple potato, sweet peas, black garlic aioli, crispy carrots
Seared Haloumi Cheese
roasted fennel, pomegranate, crispy bulghur
Seared Foie Gras
smoked salmon, lentils, fennel, port, aged basalmic
Persian Fish Stew "Ghalieh Mahi"
fresh herbs, preserved lime, tamarind
Rabbit Two Ways
leg with rustic fesenjoon sauce, meatballs with fesenjoon pure
"Sholeh-Zard" Saffron Rice Pudding
rose water foam, almond crumble
Friday, December 9: Matt Accarrino, SPQR
Proceeds benefiting the National Organization for Rare Disorders, dedicated to helping Americans with rare diseases.
Raw and Cooked Chicories
robiola, guanciale, roasted cipollini vinaigrette
Farm Egg "in Camica"
celery root, American ham, white shrimp, lovage
Roasted Branzino
fennel, Satsuma, 8 year balsamico, saffron
Strozzapretti al Cocoa
rabbit, swiss chard, black olive, goat cheese
Truffled Farmstead Chicken
red cabbage, cranberry, creamed lentils, red wine sauce
Chestnut Fritters
quince jam, vin santo zabaglione, meyer lemon mostarda
For reservations, contact Fifth Floor (located in the Hotel Palomar at 12 Fourth Street) at (415) 348-1555.
Photo Credit: Chef David Bazirgan, via Twitter