Huckleberry Bicycles, a Central Market Bike Oasis
Sandwiched between the Market Street Cinema and Kicks on Market between Sixth and Seventh Streets is an unexpected oasis for bicyclists: Huckleberry Bicycles.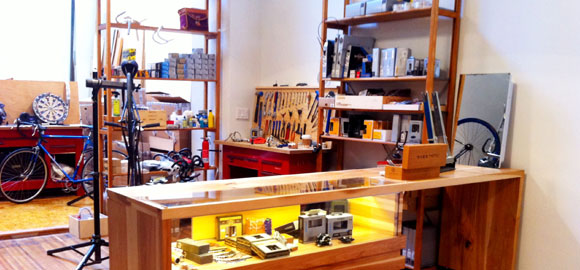 Those who ride past on their daily commute may already be familiar with Huckleberry through their popular kiosk: free minor bike maintenance and repairs every weekday from 7:30 to 9:30am unless it's raining. The kiosk service started a few months before the store opened and is here to stay.
Even though the kiosk service is free, expect nothing but the best service, which goes to a major philosophy of the guys behind Huckleberry.
"We're firm believers that service has to be top-notch. Everything from just a flat fix has to be done right, to a really complex frame build," said Huckleberry partner (one of three) Zach Stender.
"You can go into any shop and buy a pump; you might as well get the cheapest, because it's the same pump. With service, it's a little different. Whether the price is higher or lower, the work that you're getting is not equal in every shop." Huckleberry prides itself on top-notch service, and its focus on understanding and servicing urban cyclists.
The shop's deceptively narrow all-glass façade opens into a deep, warm space with refinished original oak floors. Shiny new bicycles (and some matte) line the left wall, ranging in price from approximately $200 to $2,000. Huckleberry carries many types, though no mountain bikes, tri(athlon), recumbents or tandems.
"Most of us grew up mountain biking, so [not carrying mountain bikes] tugs on our hears a little, but we're trying to narrow our focus and cover it really well," Stender said. "In general, bike shops — most of them — try to do everything. It's hard to become the go-to place for any one those [genres] if you're trying to do all of them."
And though there aren't mountain bikes, Huckleberry carries bikes that can handle trails — "beefy touring on/off road bikes and cyclo-cross".
Stender pointed out that while many city-dwellers commute by bike to work, they often ride in other scenarios and don't necessarily want to look like the traditional cyclist. Thus in addition to keeping ample stock of the everyday necessities (repair parts, locks, lights and fenders), Huckleberry offers a discerning selection of urban cycling clothing.
The raw denim options from Cadence (made in San Francisco!) come in three washes with 2 percent lycra for stretch, patented cadence seat reinforcement (no more holes in the crotch/thigh area), reflective details and range in price from $84 to $90. Cadence also supplies the good-looking slim fit cotton "Liam Cardigan" in black and grey ($64) as well as a stretch chambray long-sleeve button-up that would work well at the office or the art gallery. There's also a variety of Cadence caps.
Swrve cycling jeans ($120) share some of the same characteristics as Cadence denim, namely longer in the back to cover your rear and reflective details. The knickers come in a variety of materials — wwr ("water + wind resistant"), cotton and tech fabrics — in trim and slim fits.
Their bamboo shirts offer the slim fit while wicking sweat, and the limited edition Swrve Wax Riding Jacket is just plain fashionable. Sure, the waxed cotton is highly water resistant and it bears features like slightly longer sleeves to avoid bare wrists over handlebars that make it ideal for cycling, but it's a dapper piece that doesn't scream "cycling apparel".
LA-based Wheelmen & Co offer yet another aesthetic, providing a nice contrast to the other brands (including Huckleberry's curated selection of Chrome gear). The waxed canvas bags bear a classically tailored look but with modern accents like sealed waterproof zippers and 1000 denier nylon lining. These and their cap-and-mustache tees are all made in the US.
Offerings from brand Sombrio include short-and long-sleeved merino jerseys, knickers and "free ride pants" that seem ideally suited to riding in San Francisco weather.
The "activewear" currently consists of a selection of padded cycling shorts and bib shorts, with more on the way. When fully stocked (hopefully by December), Huckleberry will also carry a full line of Castelli cycling clothing.
Cycling shoes are currently limited to Chrome and DZR — "urban cycling shoes that you'd wear anywhere," as Stender puts it, but road cycling shoes are en route.
For the three partners and first-time bike shop owners behind Huckleberry Bicycles (Stender, Jonas Jackel and Brian Smith) it's a labor of love. They've transformed what used to be Midtown Rags (now relocated down the street) into a beautifully inviting space for urban cyclists.
The shop's about 90 percent built out and has two thirds of the goods with more coming every day but Stender says they were itching to open after a year's work. A grand opening party is in the works for December, with more parties and events to follow.
From totally restoring the space to finding wooden JC Penney stock shelves and wooden benches and counter, to the succulent plants up front and cycling-themed art, Huckleberry Bicycles is a comfortable, welcoming place to shop with a very cool vibe.
Those in the market for a hybrid with basket, classically styled road bikes, carbon fiber racing numbers or who want to check out models with newer innovations like internally geared hubs and belt drives will find them all here, with knowledgeable and friendly people to boot.