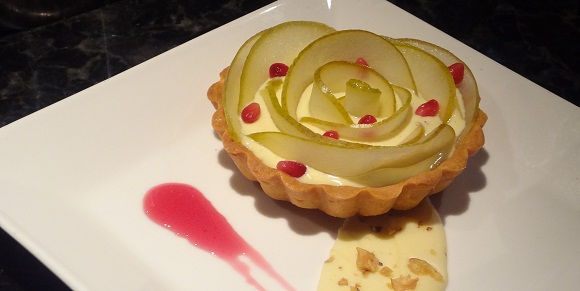 "I have a big sweet tooth…" says Lisal Moran, the new pastry chef at Attic Restaurant in San Mateo. Chef Moran started her work at the restaurant on B Street approximately one month ago, but has already made an impact on the restaurant's repertoire.
"I got in contact with Attic because I loved what they were doing with their menu, but they were lacking in the desserts department." The ending of the meal was did not satisfy her enough. "After I finished dinner, I prepared for dessert. I cleared the table and waited for the dessert menu, but the server said there was only one dessert – the bread pudding…it was like watching a great movie, getting really into it, then all of a sudden the credits start to roll."
Attic, known for Chef Tim Luym's modern renditions of classic Filipino fare, has become a go-to spot in San Mateo. Incorporating Moran's desserts only makes sense. "Making desserts with Filipino flavors is a good way to get in touch with my roots." Sweet and playful variations on traditional Filipino dishes are now available for diners such as these Pumpkin Empandas.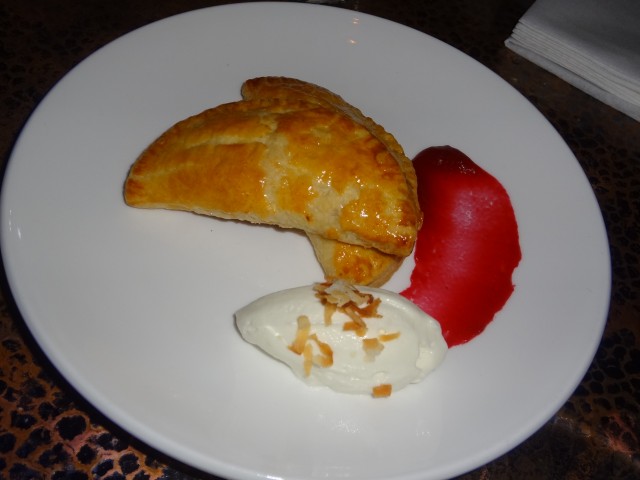 roasted fairytale pumpkin, pâte brisée, toasted coconut whipped cream, cranberry
The flavors from the luscious pumpkin filling are ideal for the holiday season. Presentation is also important to Moran. "I was a pastry cook at Spruce in San Francisco for a little while. I learned a lot there." Another crowd pleaser was Moran's Chocolate Champorado Cake: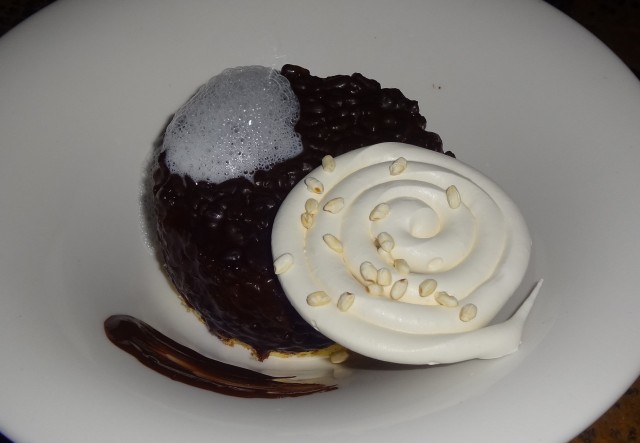 dark chocolate rice, sponge cake, popped rice meringue, vanilla foam
"I wanted to create desserts that bring back memories…" Moran explains. "Champorado [a chocolate rice porridge] does that for a lot of people." The deep flavor of the chocolate paired nicely with the sweetness of the vanilla foam. Moran indicates she intentionally did not add any sugar to the chocolatey rice. "People told me that they wanted it sweeter, but there is already sugar from the other parts of the dessert. I did not want to make it overly sweet."
The Pear & Pomegranate Tart (pictured above) with five-spiced cream, shortbread crust, toasted walnut "bark," white chocolate is another dessert that almost has a savory quality in the cream but also has spunk that awakens the senses in the pear and pomegranate seeds.
While the pumpkin empanadas, champorado cake, and pear tart are on the regular menu during the weekdays, a sky-high version of a buttery Filipino confection is featured during the weekends.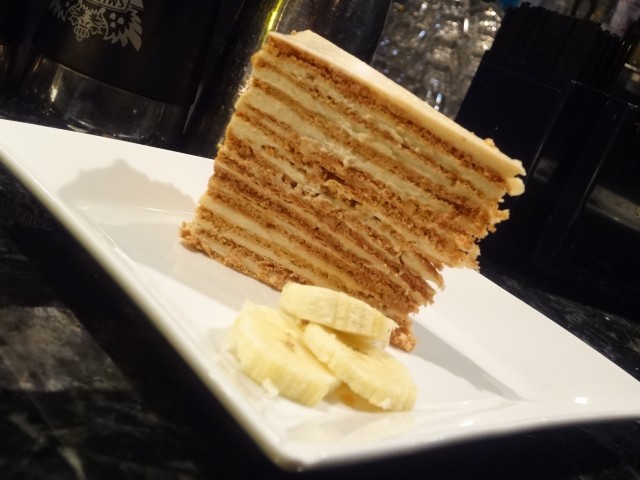 peanut wafers layered with caramel buttercream served with bananas
Sans Rival is customarily made with cashew meringue wafers, but Moran wanted to try something different. A slice will have about twenty layers of wafer and buttercream. Again this conjures childhood memories as it summoned flavors of lunchbox'ed peanut butter and banana sandwiches melded with mature palate sensations of macarons and buttery frosting.
234 South B Street, San Mateo, CA 94401-4018; Tel. +1 415.342.4506
Joanne Boston is a food blogger (www.jobostonisafoodie.blogspot.com) and food event coordinator based in the SF Bay Area.