The Eaters' Choice Awards – A Win for the Trucks and Food Banks
It was a gorgeous October day at San Francisco's Fort Mason.  The event's master of ceremonies, Liam Mayclem of CBS's Eye on the Bay, approached the mic and was ready to award the SF and Marin Food Banks and announce the winner of the Eaters Choice Awards.
Chase Sapphire, the sponsor of the event, partnered with Off the Grid to bring the Bay Area's Top 10 food trucks.  The public was allowed to vote for their favorite and for every vote, Chase Sapphire  donated $1 to the San Francisco and Marin County Food Banks.  Approximately 7000 votes were tallied, but Chase Sapphire rounded up and awarded the food banks with $10,000 which will most definitely help out many families in need.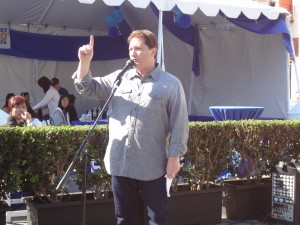 Then the decision that everyone was waiting for was announced.  There could only be one winner and that prize went to Little Green Cyclo!
The looks on the founders' faces were priceless as they came out from their truck to claim their $5000 check.  After all, Chef Quynh Nguyen, Monica Wong and Susie Pham were only doing what they love – bringing Vietnamese Street Food to the masses.
Little Green Cyclo serves a taste of Saigon from their brightly colored truck and for the record, the flavors are more than just "little."  Anyone who has been to Vietnam will say the country's street food culture is vivid with pungent aromas, spice, sweetness and freshness.  Take a look at the the truck itself.  The side under their order and pick up windows is adorn with photos taken by their friends and family in Vietnam from the last eighteen months.  But what about that $5000 makeover they won?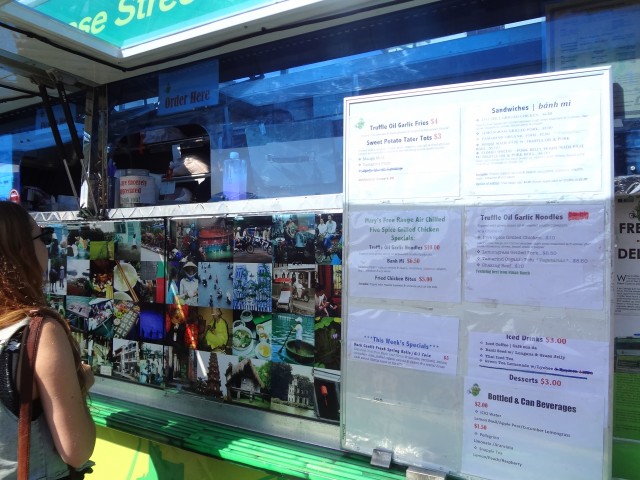 "We're not getting rid of the wrap.  It's a great design," Said Wong "We're probably going to use the money on new lights, a new refridgerator, a PA system because it's hard for the customers to hear their numbers being called especially if there is music playing…maybe even a digital display that shows the customer's number."
Moments before LGC was announced as winner, I myself was at the ordering window.  I ordered their garlic fries and shaking beef garlic noodles, but it is an appetizer that Wong wants us to try.  "If there was only one thing we would suggest to our customers, it would be the duck confit spring rolls.  It's not on the regular menu and it is made with Maple Leaf Farms duck…whenever Quynh makes it, I always have some."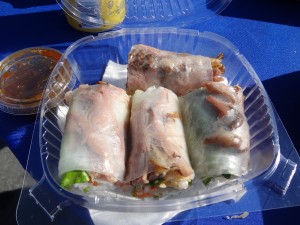 The refreshing rice paper salad rolls are stuffed generously with rich shredded duck, lettuce, cold noodles, crisp mung bean sprouts, julienned carrots, and mint.  Alongside the rolls comes a luscious peanut sauce for dipping.  "Chef Quynh was born and raised in Vietnam and she brought her recipes here," Wong explains.
So what is next for LGC?  Wong excitedly tells us about their one year anniversary this past September where they served pho from the truck.  The labor-intensive beef broth was a challenge to make, but they accomplished it without using MSG and other artificial ingredients.  Wong mentions she is from Boston and that even though they have extra funds now, they are choosing to stay here in the City.
"We are very happy with San Francisco.  We have so many supporters, like Matt Cohen of Off the Grid…and this is where we started, so we want to stay."  Is a brick and mortar a possibility?  "No, we are going to concentrate on our truck…but we are planning on bottling the sauces we use for the sweet potato tater tots."
For more information about Little Green Cyclo, visit their website or follow them on Twitter.
To see more of what we ate at the Eaters' Choice Awards celebration, check out the gallery below.
Unless otherwise stated, all photos were taken by Joanne Boston