2012 Chefs of the Bay Area Calendar Benefits Meals On Wheels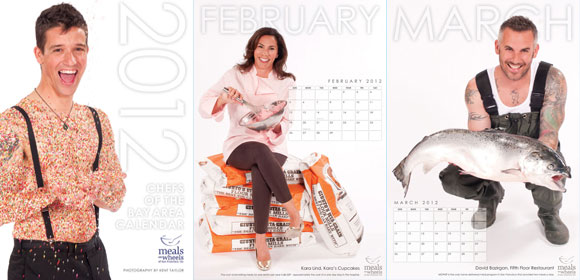 Can't get enough of chef celebrities? a new 2012 Chefs of the Bay Area Calendar showcases local chefs like you've never seen them before. The 11×17 wall calendars are printed on 100 lb. high gloss paper. And each pin-up monthly page also features a special recipe from the corresponding chef, like Jake Godby's salt and pepper ice cream, Annie Somerville's corn and cherry tomato salad with arugula, and Kory Stewart's black walnut Sbrisolona (an Italian crunchy tart).
Check for your favorites in this year's list of 12 participating chefs:
● David Bazirgan – Fifth Floor Restaurant
● Jen Biesty – Scala's Bistro
● Dominique Crenn – Atelier Crenn
● Mark Dommen – One Market
● Jake Godby – Humphry Slocombe
● Mourad Lahlou – Aziza
● Kara Lind – Kara's Cupcakes
● Pam Mazzola – Boulevard and Prospect Restaurants
● Peter McNee – Poggio Trattoria
● Yigit Pura – Tout Sweet, not open yet
● Annie Somerville – Greens Restaurant
● Kory Stewart – Americano Restaurant
Best of all, 100% of the proceeds from the calendar will benefit Meals On Wheels of San Francisco (MOWSF). For more than 40 years, MOWSF has been preparing and delivering nutritious meals to homebound seniors in the city. More than 16,000 meals per week during 2009-2010, that's 922,530 meals per year. The current rate of about 18,000 meals per week, will easily surpass last year's total number. Wow!
Bay Area chefs have a long history of collaborating with MOWSF fundraising efforts, like the annual Star Chefs and Vintners Gala event. "This calendar is just one more way they (Bay Area chefs) are helping us ensure that no homebound senior goes hungry," says Ashley McCumber, MOWSF's executive director. "I love contributing to Meals On Wheels of San Francisco," said David Bazirgan, executive chef at Fifth Floor Restaurant. "It's an important cause to me and gets back to the reason I'm a chef, to cook for people. It brings me joy to know that I'm able to help those in need through my passion." The calendars are available for sale online ($20), at Macy's Union Square (starting on October 20), Williams-Sonoma Union Square store (starting on October 26), and at participating chefs' restaurants.
For those in a festive mood, join the official kick-off party scheduled for tomorrow evening Wednesday, October 19th – 6pm at Macy's Union Square Cellar @170 O'Farrell. Purchase your tickets to the party online for $25. The price includes a copy of the calendar, sampling of sweets: Kara's cupcakes, Humphry Slocombe ice cream and Yigit Pura's pastries, and a chance to mingle with some of the participating chefs in person. All event proceeds benefit MOWSF.