San Francisco Launches Bike Rental Program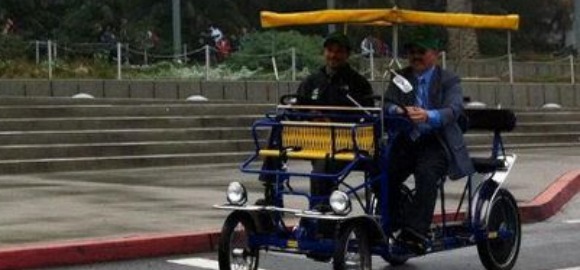 A new bicycle rental program in San Francisco was celebrated on Tuesday with an inaugural ride in Golden Gate Park with Mayor Ed Lee and other city officials.
ParkWide Bike Rentals, which will launch five bike rental sites across the city, is now the official San Francisco vendor for bicycle rental concessions in San Francisco parks.
There are two locations in Golden Gate Park – one behind the bandshell at the Music Concourse and another at the intersection of John F. Kennedy and Hagiwara Tea Garden drives. They will also be opening three others locations – at Justin Herman Plaza, Fort Mason Center and Union Square Plaza.
The rental fleets will feature six different bikes with different rates (hourly, 1/2 day, full day, 24 hours and overnight). There are also multiple options for single riders and bikes for 2-4 people.
Photo Credit: Mayor Ed Lee, via SF Rec and Parks