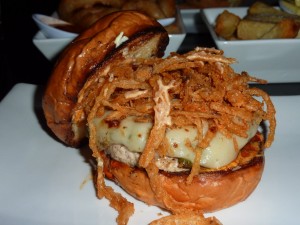 After so many months of excruciating anticipation, Umami Burger (2184 Union Street) is ready to open its doors this Monday! After an exclusive press preview this weekend, Yum will report back with all of the incredible details that are sure to make Umami's arrival one of the season's most exciting new additions to the San Francisco dining scene. So stay tuned for that!
As of now we can report that the new Cow Hollow eatery will feature a bacon-wrapped scallop burger which will be exclusive to this location. Local craft beers will also be available on draft,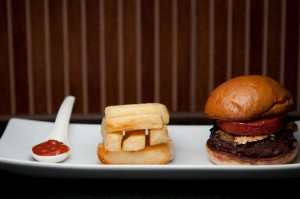 including San Francisco's own Anchor Brewing Company, 21st Amendment's Back in Black IPA, and Racer 5 Pale Ale. Umami founder Adam Fleischman will be on-hand to oversee the soft opening of his restaurant's first foray outside of LA.
Vegetarians can also rejoice as the menu will feature not only its own take on a veggie burger, but an Earth Burger as well–consisting of a mushroom and edamame patty, topped with white soy aioli and truffle ricotta. With ten burgers available on opening day, there will be something for everyone. Just make sure you get there early, as such a monumental event is guaranteed to draw some huge crowds.
Keep checking-in to Yum for continuing updates…