San Bruno Fire and Explosion – One Year Later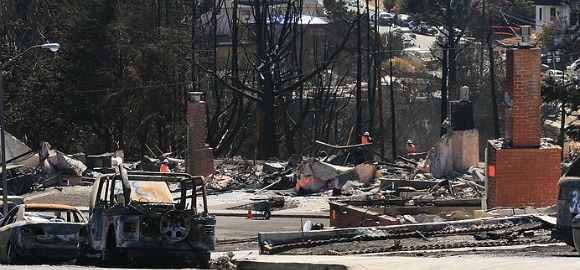 This is a weekend filled with memorials. Not only are we remembering the 10 year anniversary of 9/11, but also, Friday marks the one year anniversary of the tragic pipeline explosion and fire in San Bruno that killed eight people.
The Crestmoor and Glenview neighborhoods are only just beginning to recover after a PG&E natural gas transmission exploded last September 9. 38 homes were destroyed and 60 others were damaged, some severely. Some of the residents that had their homes destroyed are just in the very early stages of starting to rebuild.
The National Transportation Safety Board just completed an exhaustive, year-long investigation into the blast citing numerous manufacturing, operations and safety failures from Pacific Gas and Electric. The California Public Utilities Commission was also blamed for a failure to regulate deficiencies in the pipeline system.
Local officials like San Bruno Mayor Jim Ruane and Peninsula Assemblyman Jerry Hill and Assemblywoman Jackie Speier have been steadfast in calling for new pipeline safety regulations in the wake of the tragedy.
The tragedy has brought the state's pipeline system under the microscope and several safety concerns into the forefront. The city is holding a memorial Friday night for the entire community.
Photo Credit: Mbz1, via Wikimedia Commons