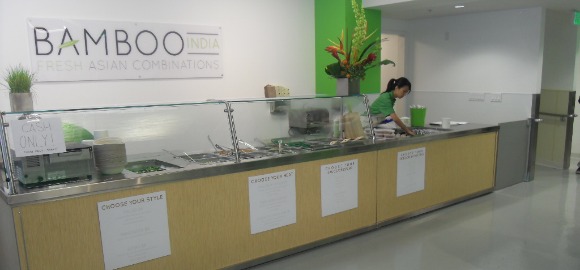 Working in the Financial District, I am always looking for places to grab a quick bite to eat.  So whenever a new place opens, it definitely grabs my attention.
We told you last week about one of the newest spots, Bamboo Asia.  Well, it officially opened for business earlier this week, providing FiDi folks with another munching option.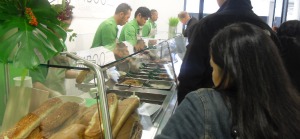 The restaurant can best be described as almost a cafeteria-like assembly line.  It features three different stations: Indian, Japanese and Vietnamese cuisine.
At the Vietnamese station, you have the option of a salad, sandwich or rice/noodle bowl.  Once you choose the desired item, you can pile on an assortment of veggies and then choose one meat and one sauce.  The choices for meat are BBQ Chicken, Pulled Pork and Lemongrass Beef.
At the Indian station, you have a choice of salad, wrap or rice bowl.  Again, you choose the vegetables you want and your choice of meats are Tandoori Chicken, Tandoori Shrimp and Chicken Shish Kabob.
Finally, at the Japanese station, your choices are sushi, rice bowl or salad.  Meat toppings include salmon, tuna, eel, hamachi, tempura shrimp and crab.
The items are each fairly priced at $8 apiece.  Fair warning, as of this writing, they were cash only.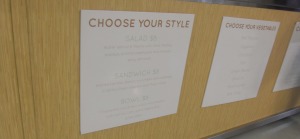 There is some seating in the restaurant, but a large empty space in the middle of the floor could be filled with extra tables for those looking to sit down.  But I would expect that most would use Bamboo Asia as a stop and go spot, grabbing a quick bowl or plate while on break.  Plenty of good options for those looking for something new.
Click here for more on the restaurant.