FiDi's Latest and Greatest: Bluestem Brasserie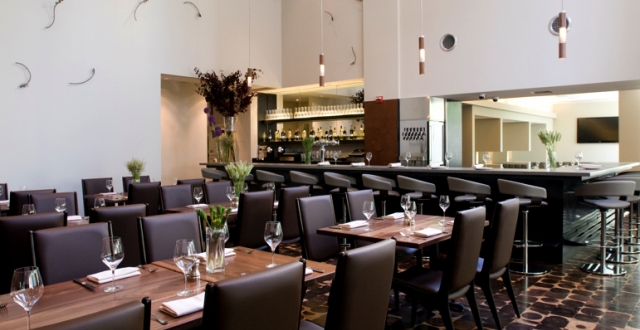 We've all had one of those days. You're sitting in your cubicle, it's almost 5pm, and you're caught in a lengthy email debate trying to decide where to happy hour. Forty-five emails later, the verdict is still out and the clocks about to strike alcohol-o-clock. Ugh.
Take a virtual stand and end the debate with a little update to your little culinary black book: Introducing Bluestem Brasserie. Bluestem is a brand-new, super-chic steakhouse complete with an open-air patio bar. Located right on Market in Yerba Buena Lane, it's the perfect spot for a post-drink tipple and late night nibble.
Start the evening with a signature cocktail (or three). Try the spicy American BBQ a blend of Arta jalapeno tequila, noilly prat dry, housemade tomato juice topped with a BBQ dusted rim. If you're feeling a bit Euro-chic, try the Italian Orange, a simple classic of Hanger Mandarin, Campari, and Lemon.
Once your tummy starts a-rumblin', break out the big guns and order their oh-so juicy grass-fed burger served on a caraway roll with a side of Kennebec fries. Get fancy with the duck confit topped with a poached duck egg and—of course—bacon. If you've saved a bit of room, finish it all off with a giant slice of Honolulu Hangover, a chocolate coconut layer cake made with toasted coconut and marshmallow meringue.
Stop the next email war before it starts and suggest Bluestem Brasserie—you'll be the coolest friend on the chain.
Bluestem Brasserie, 1st Yerba Buena Lane, 415-547-1111
Photo credit: Bluestem Brasserie