Pride Weekend Dance Preview
The weekend of June 24th, SF PRIDE will be taking over the city with celebrations and attractions of all kinds, supporting the LGBT community. Get an early start planning your Pride weekend. It's time to hit the clubs and dance the night away as rainbows pump from the speakers.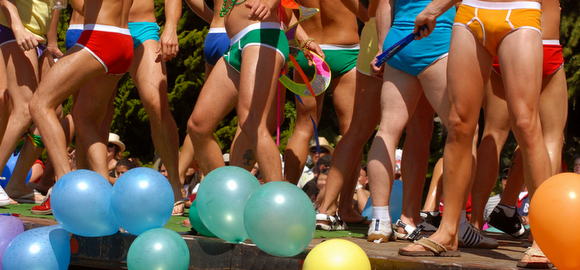 Thursday – June 23
Revel & Riot Gay Pride @ Brick & Mortar Music Hall
Artsy collective Revel & Riot will be selling LGBTQ art and T-shirts at a booth during Pride weekend, but it will also be kicking off the celebrations on Thursday night at the Brick and Mortar Music Hall with tunes by DJ Saratonin and others. The party also features an art show and tons of prizes.
Mo Butta Pride @ The New Parish
Bay Area Lesbian women and color and allies group Butterfly Productions will bring old school, funky sounds to Pride with Mo Butta Soul Funk Pride edition including a performance by Kymberlie Jackson at The New Parish in Oakland.
Friday – June 24th
Bearracuda Pride @ Public Works
DJs like Chicago's Ted Eiel, dabecy, and more, will bring the notorious national Bearracuda dance party to multiple rooms at Public Works for all the bears, cubs, and friends to get their dance on. More info.
Drag Yourself to Pride Prom @ Rickshaw Stop
Dress to impress and try to score the title of Prom Queen or King at Rickshaw Stop's Pride Prom, featuring music from Brian on Beats, prom photos, and dancers throughout the Burning Man-meets-Pride celebration.
Paul Oakenfold @ Ruby Skye
One of the biggest electronic artists worldwide, London's Paul Oakenfold has continuously produced dance-floor banger hits and performed around the world. He brings his top-notch talent to Ruby Skye for a high-powered, electronic set at the hands of a true legend. More info.
U*NI*TY @ 111 Minna
Held at 111 Minna, U*NI*TY aims to combine art, live music, DJs and performance for a benefit and celebration event including one hour open bar from 9-10pm and a special performance by the Sarah Bush Dance Project at midnight. DJs dirtyKURTY and China G will be spinning tunes and keeping the party dancing throughout the night.
Saturday – June 25
Lights Down Low Pride Edition @ SOM Bar
A special Pride Edition of SOM's monthly Lights Down Low party with residents Sleazemore and Eli Glad brings LA's DJ Saratonin as well as artists JD Samson from Le Tigre and Men and Nomi Ruiz of Jessica 6 and Hercules and Love Affair to keep the celebration going from 8pm well into the night on Saturday.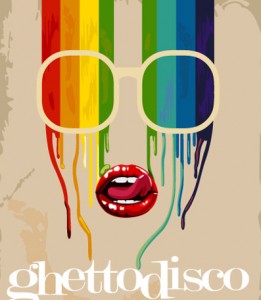 Bootie SF Gaga vs. Madonna @ DNA Lounge
The Bootie SF crew present what they have dubbed "the gayest Bootie ever" at DNA Lounge with DJs, a live mashup band, and the main event with performances by dueling divas covering Madonna and Lady Gaga. Get there early to pick up a free Bootie mashup CD at the door! More info.
Pride Cruise 2011
Red and White Cruises is celebrating Pride by featuring a special evening bay cruise at 8pm with a buffet, DJ, and bar as you sail around the Bay for 2 ½ hours. A portion of each ticket sold is donated to SF Pride. More info.
Ghettodisco @ The Endup
Said to go till 11am, the Pride edition of Ghettodisco at The Endup is not to be missed. Not only will residents Hawthorne and Cuervo be spinning killer dance tunes but NY house legend Junior Vasquez will be keeping the dancefloor going into the early hours with an extended, late set.
Sunday – June 26
Hard French Hearts Los Homos Pride Party 2011 @ Public Works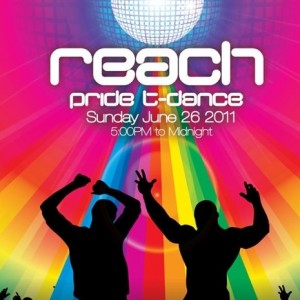 Hard French sends Pride weekend out with a bang at Public Works with a performance by transgender New Orleans' Bounce rapper Big Freedia, Bay Area indiepop group HOTTUB, and more. More info.
Immediately following the Pride celebration at Civic Center, Mighty will shift the party into full-gear with support from The Juice Box and other DJs. Expect the bass to be heavy, patrons to be sweaty, and laser light show by Laseronics to be mesmerizing. More info.
Official Pride Closing Party @ The Regency Ballroom
Pride will be closed out in style starting at 7pm at the official party for Sunday night entertainment including singer Taylor Dayne and a list of LGBT celebs.
Where are you planning to party?
111 Minna, Bearracuda, Big Freedia, Bootie SF, Brick & Mortar Music Hall, Butterfly Productions, DJ Saratonin, DNA Lounge, Eli Glad, Ghettodisco, Hard French, HOTTUB, JD Samson, Junior Vasquez, Laseronics, Lights Down Low, Mighty, Mo Butta, Nomi Ruiz, Paul Oakenfold, Pride Prom, Pride Weekend, Public Works, Red and White Cruises, Revel & Riot, Rickshaw Stop, Ruby Skye, Sarah Bush Dance Project, Sleazemore, SOM., Taylor Dayne, the endup, The Juice Box, The New Parish, The Regency Ballroom, U*NI*TY