Toronto electronic duo Nacho Lovers are at the forefront of music production trends as they bend genres to create unique dance hits through the Fools Gold label. They recently released a new remix and will be playing Obey the Kitty in SF this Wednesday at Vessel.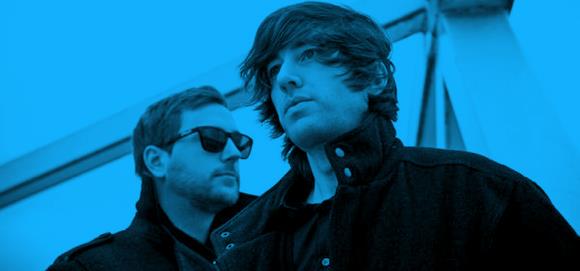 Andrew Ross and Scott Seewhale of Nacho Lovers are house music producers, DJs, and friends who use their vast knowledge of music and deep record collections to make dreamy house music tinged with various influences. I recently chatted with them about their favorite DJs to spin with, production and remix work, and more.
How did you come up with your name, Nacho Lovers?
We totally forget. Actually, someone asked us. We were probably drunk. It doesn't really mean anything. I'm sorry.
How did you get linked in with Fools Gold?
We did a remix for some friends of ours and around the same time we were starting to make music, we sent them a couple tracks and that was it. It was really natural.
We perform at some of their showcases at different festivals. It's always fun because there's definitely a family vibe with the label. When we all get together it's really relaxing and we all hang out.
What are some of your favorite events to play or favorite artists to work with?
We like playing with the Jokers of the Scene guys because they're probably our closest friends in the music industry in general. We all live in Toronto now; they were in Ottawa but they're here [in Toronto] now.
We did a set together at the Fools Gold party at WMC, all of us playing together at the same time. That was pretty fun, and the first time we had done it. We've opened for them and they've opened for us, but we had never actually played together.
What are the differences between producing an original track and producing a remix of someone else's track?
I think when doing a remix, you're more forced into making music, it seems like more of a task. I never sit down and make original music if I don't want to. If it feels right and I'm into it, then it will come out right. But I don't force it. Remixing is more like getting the job done, there's stuff you have to do for it. With remixes there's always a deadline, when you're making original stuff you're on your own time.
What are you most proud of as artists?
We're most proud of the fact that we have never felt we had to do something, or done things we haven't wanted to do for our DJ career. We've always done what we've wanted to do as far as how we DJ, the music we make, and the remixes we've done – for the most part for friends of ours. It all stays really fun. We haven't gotten to a point to ask "Why are we doing things like this? This isn't a fun thing to be doing." We've never done anything just for a paycheck.
I've always wanted music to be something that I enjoy rather than something to do for getting by. You're never really compromising anything between the music you're making and making a living.
Any new up and coming artists you're psyched about right now?
I really like the housey stuff, especially that Maurice Donovon record. Maybe we don't play UK style stuff a lot, but I think we're both definitely fans of everything coming out of there. It's hard not to right now; there's so much interesting stuff coming out. Maybe not geared directly to the dance floor, but it's still so well produced and forward-thinking.
What are you looking forward to in San Francisco?
Food. You can't really get good Mexican food in Toronto. We're also totally landlocked and there isn't much fish around us and if there is, it's imported. Last time we were there we had really good sushi. We're excited to go to Amoeba and Groove Merchant. Last time we were there we found some pretty good music.
[audio:/wp-content/uploads/2011/05/Lay-It-Down-Nacho-Lovers-Remix.mp3] Jacques Green "Lay it Down" (Nacho Lovers Remix)
Nacho Lovers at Obey the Kitty at Vessel on May 18th with DJ Vin Sol.