Celebrate Four Years of Afrolicious
Four years of boisterous Afrolicious events including musicians, DJs, and dancing will be celebrated this week at Elbo Room with back-to-back parties Thursday and Friday. We spoke to resident DJs Pleasuremaker and Senor Oz about their love for San Francisco, and more.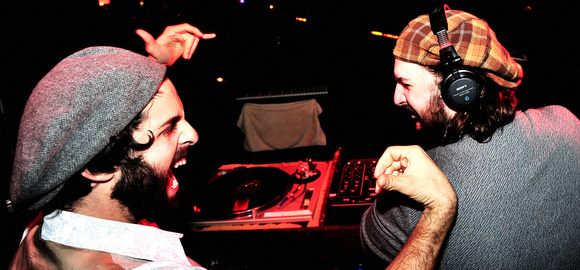 It's best to describe Afrolicious not as a party, event, or band, but as a movement made up of numerous elements that come together to produce a unique, memorable experience. Led by brothers Pleasuremaker and Senor Oz on the turntables, along with instrumentalists, singers, and other DJs,  their funky, soulful sound brings people of all kinds together weekly for dancing and pure happiness.
After four years of Thursday nights at Elbo Room, what makes that venue ideal for Afrolicious?
Senor Oz (Oz): The fact that it's in the Mission is a big deal because that's just the heart of the city right now as far as art and music. It's an amazing melting pot. I don't think the party could take place anywhere else in town because of the vibes we get and the people we meet in that neighborhood at places like Revolution Cafe and Dolores Park. It's like the club extension of all the great places in the city.
There's a certain laissez faire attitude with the club as far as things spilling out of the greater room into the dance floor and onto the stage. It almost becomes one organism of performers and crowd with this energy feeding off of each other that works great in that space. It's not too big, it's not too small, we're all kept in check in some way. The people that work there make it smooth and easy; it's never difficult on the production end which makes it easier for us to do our job which is to make people dance and make people happy.
What are some of your best memories or the most memorable events from the last four years?
Oz: There's a couple things that are really cool —every year for the anniversary we do duel parties, Thursday and Friday, and every year it's been amazing. We've always been able to bring in special guests but also include all of the local people that we work with and try and make Afrolicious almost a live orchestra. On these nights, we have enough of a budget to hire all our favorite local players and bring in others from all over.
The New Years parties and the Anniversary parties always seem to be the big blowouts. It's hard to pick one time.
Pleasuremaker (Joey): I would say each time we get to work with a new artist, maybe that initial introduction. Those moments stand out to me as milestones where new things were formed. Nothing I can think of is above other stuff. It's a constant stream of good music.
Is there anyone on your radar who you'd really like to come out and play Afrolicious?
Joey: Once you're doing something every week your imagination can go wild. There are some people we're actually talking to that I have pretty high on my list. But we might not even be able to do it at Elbo Room. I want to work with someone like Cut Chemist, he's one of the most phenomenal DJs but also heavily into African and Latin music so he can play those styles but also have the skills of an incredible hip hop DJ. He has all these technical skills but also plays the music I love. That guy's just a master of the craft of DJing.
Oz: He's doing a new show with one turntable and a foot pedal like a sampler and he cuts up Ethiopian jazz records. I'm hoping he's gonna come out in June maybe — not confirmed but I'd love to get him to play.
There are other artists too, Rich Medina, there's a long list.
Joey: As far as musicians go, there's probably hundreds, maybe even more, of guys that I would love to play with in the Bay Area that I don't even know yet. There's so many amazing musicians in the East Bay or the City and when I hear about them, they come and play, and I'm just like "wow." A lot of them are just someone I haven't met yet.
Oz: Not an official member, but our East Coast contingent, Nappy G used to play with Groove Collector as a timbale player but he's also a DJ and hypeman. He has been playing with DJs and live bands for a long time and now he comes out and plays a couple times a year with us and it's always a really special time. He's one of the most extraordinary percussionists, sort of like a contemporary Tito Puente of the hip hop era. He'll be out for the four year anniversary. He's a mentor.
Musically are there any things that you brothers disagree about, something one likes but the other isn't a fan of?
Joey: We definitely have our preferences. We both like a wide array of stuff but maybe I'm a little more specific in some ways and he's more accepting. We both have wide open palettes for music but everyone has their own taste. A lot of times we know if the other one would like something. We play a lot of electronic music but every thing I play has to have some type of obvious human element to it. I don't like very stiff electronic music at all, it has to have some element of soul to it.
Oz: I don't know if there's disagreements. There's probably parts that overlap more than other stuff. I've always been more looking for music of the moment or the future, what's coming up next type of thing. Joey cares about the traditions and carrying those on also. We try to bring a little of the old and a little of the new together. I might be a little more on the electronic music than he is.
Most of the music you play is pretty unique, do you ever get into any mainstream music?
Oz: I try and listen to a lot of what's going on. Sometimes I'll really love some great new hip hop track and then other years I won't pay attention to it at all. I have mad respect for people like Jay-Z who stay in it and keep pushing things.
I like the fact that we can take things from all different places and it doesn't have to be in one niche. Afrolicious has kind of become it's own genre, it's own niche of soulful music from different parts of the world that we select. Sort of the same thing that Mark Farina did with Mushroom Jazz or others. People trust what we're going to play and they like it. It could be some big artist and we'll still play him because it's the right vibe.
What are your favorite spots in San Francisco?
Oz: Our office/living room is the Revolution Cafe. That's our other spot besides Elbo Room, when we want to unwind and take some time to just chill and listen to some jazz.
Joey: My favorite is Revolution Cafe. Dolores Park is my favorite spot in the city. As for clubs, I like Public Works a lot, and Elbo Room is a place I liked before we even played there.
Oz: For record stores, usually I go to Groove Merchant, Black Pancake Records, and Amoeba Records. I try to do those three pretty heavily. I think what you can get there you can't get at most places in the world so we're pretty lucky.
Anything you guys are into other than music?
Joey: Yeah, all the finer things in life <giggles> — film, digital arts, photography, yoga, social interaction, and part of music, dancing. A huge reason I wanted to throw parties was because I just really wanted to dance.
Afrolicious 4 Year Anniversary Party featuring Jeremey Sole, Nappy G, DJ Smash, and Afrolicious residents is Thurs. April 28 and Fri. April 29 starting at 9:30pm at Elbo Room.