Atelier Crenn – Nature and Creativity on a Plate
Walking down Fillmore St, you could easily miss the nondescript space occupied by newcomer Atelier Crenn, from Michelin star chef Dominique Crenn. Natural-colored curtains keep the dining area hidden, providing patrons a bit of privacy and tempting outsiders with subtle mystery. Enter and you immediately notice the minimialist décor. While some patrons criticize the space for being stark and cold, I find the combination of a bamboo wood ceiling, low, cream-colored banquettes, and antique light bulbs to be soft and tastefully decorated.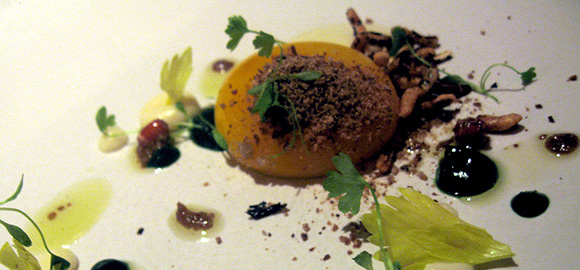 Nature and Imagination are on the menu
Everything about Atelier Crenn echoes a single theme of embracing one's natural state and then building upon it. From the subtle classic décor, to the artwork painted by Dominique and her father, to the inventive cuisine; all elements are nature in a new derivation. Atelier Crenn challenges you to forget living by the rules and instead embrace risk-taking. One piece of advice: prepare to be astonished and have a meal that will overpower all your senses.
The excitement of the Atelier Crenn team is infectious. Bauer may not get it, and frankly, so be it. Let him stay entrenched in tradition, hitting the spots that follow the trend and dance to the all-too familiar beats. I am ready for a bit of lambada in a crowd full of waltzes, and Crenn is just the artist to lead.
Cuisine a la Crenn
When it comes to the menu at Atelier Crenn, you have two options: a la carte or the Chef's Tasting menu. Atelier Crenn is a bit of a wallet pincher so save up for the latter. An amuse bouche spoon duo emerges on a charcoal slab of rock to kick off the meal. The first spoon holds frozen pea soup pearls and the second has foie gras pellets, apple cider gelee, and a hint of rose petal essence. If dippin dots ever went fine dining, this would be the result.
The coldness of the pea soup awakens your senses and the foie and rose combination washes over your tongue in a wave of smooth sweetness. Accompanying the spoonfuls is a peppery and herb-laden squab liver crostini that is perched on a branch like a bird would be in a tree. The next course is a sphere of coconut butter with a touch of crenels de cassis that provides a bright cranberry note. Pop the sphere into your mouth and experience an explosion of chilled apple cider.
A red rock bin appears at your table and diners are encouraged to "forage" for oysters. The oyster is seared and smoky. Sturgeon droplets recreate the image of an oyster with pearls, only these are ones you can eat.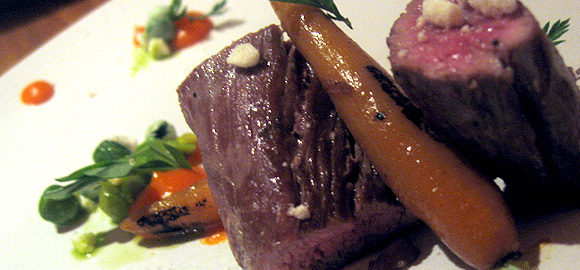 For a dose of nostalgia, move on to the next dish. Large prawns cooked sous vide style sit on a rice gelee, garnished with a light trace of seaweed. I lean over my dish to take in the full experience and the scent of the sea teleports me back to childhood. I imagine my teenage frame crawling over jagged rocks in Palos Verdes tide pools, hunting for sand crabs as the ocean waves crash behind me.
After a period out at sea, Crenn welcomes diners back to the mainland with her Le Jardin d'Hiver — a splash of ingredients playfully coloring your plate. Parsnip puree, carrots, beets, and toasted rye and hazelnuts splay across the surface, with sheep's milk yogurt disguised as a wintry snowfall.
One of the most decadent dishes of the evening is a large portion of thinly sliced foie gras decorated with pickled morels, kumquat chips and crumbled French spiced bread. The creation honors the forest and its textured offerings of wood and dirt, but the taste is anything but bland.
In another dish, Atelier Crenn proves that celery can be exciting again. Crenn masters the art of the egg, placing a slow-cooked yolk delicately on top of a dollop of celery root puree. The yolk is near solid but with a quick piercing of your fork it bursts, forming a puddle of yellow. Puffed rice, powdered rye and bits of celery all dance across the canvas.
Of the two proteins that evening, my favorite is the medium rare lamb with fresh peas and carrots. The dish announces spring's arrival.  Instead of thinly slicing the lamb, Crenn serves a short, thick cut, almost like a meat log, positioned vertically. A baby julienned carrot balances adjacently and piles of fresh and frozen peas and carrot puree flank the meat.
Dessert is front and center
Many times desserts sabotage a great meal; an afterthought leaving diners disappointed. At Atelier Crenn, this could be no further from the truth. Lauded pastry chef Juan Contreras proves that you can end a meal with a roaring crescendo. For the first dish, Contreras brings out a black box of fresh Douglas fir pine needles and dry ice, the smoke of which whispers over the edge. The image reminds me of hikes in cool, misty mountains. Contreras encourages you to first breathe in the aromatherapy before tasting the iced pine essence and macerated pine ice cream. It is a full body experience that wakes you up for the onslaught of creative desserts coming your way.
For the next dessert, Contreras presents a log that he has sanded down himself and then topped with different elements. Olive brittle pieces resembling rock candy scatter across the log for a bit of crunchy texture. Sitting on top of the brittle is Contreras' rendition of a peace offering. He recreates an olive on a branch, only instead of an acidic olive Contreras forms olive ice cream into the shape of an olive.  The flavor is mildly sweet and one that I will gladly surrender to any time.
Just when you think you have reached your sweet tooth limit, two more desserts hurdle your way.  One is an inventive take on carrot cake where the cake is formed into the literal shape of a carrot and then paired with pea ice cream. The second dessert is a sampling of dessert miniatures surrounding a bonsai tree. Marshmallow, salted caramel, lychee gelee and chocolate ganache are just a few in the assortment.
An evening at Atelier Crenn is the marriage of farm, nature, and fine dining. It is a poetic experience of passion, ingenuity, and freedom from boundaries; a haven where creativity abounds, as well as really good food.
Marina District
$$$
Photo Credits: The Dapper Diner
Anne Pao is a contributing food writer for SF Station and Yum as well as the SF Burger Examiner. When she is not satisfying carnivorous tendencies, you can find her adventuring in the Bay area outdoors. For more Pao reads check out her blog at http://sftaoofpao.com