Get Full on Soul at Brenda's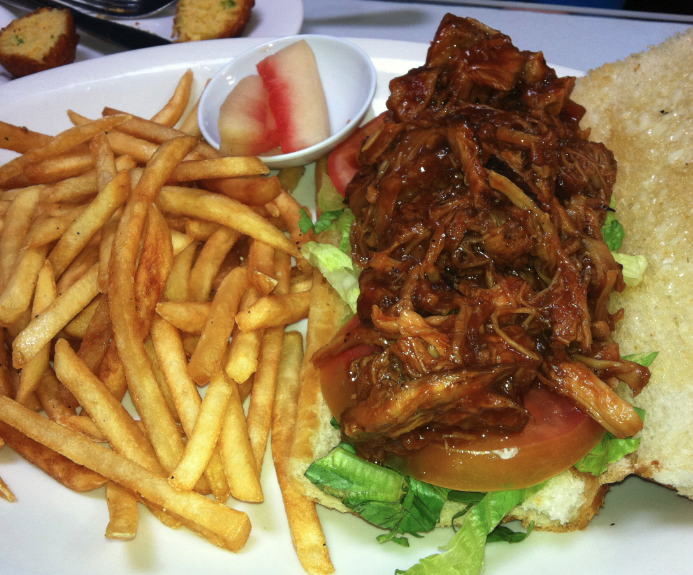 Lunch time is the right time–and definitely the safest, as well – to make your way over to the best New Orleans-style restaurant in the city, located in one of the seediest sections of San Francisco.
Brenda's French Soul Food (652 Polk Street) is in the heart (read: dregs) of the Tenderloin, but it's cozy interior and soulful cuisine is well worth the risk of being shived on your way here.
A diverse, flavorful menu as well as attentive service are the highlights of this southern import. For lunch you can choose between shrimp, oyster or catfish Po' Boys – lightly toasted cajun sandwiches that feature cornmeal-crusted seafood on a bed of fresh lettuce, tomato and spicy mayonnaise. I've been to the Deep South many times, and believe-it-or-not the delectable southern specialties served here would stack up against anything you could find in Creole Country.
The special of the day was a barbeque Po' Boy, made with savory, shredded pork that's been marinating for several glorious hours. For just under $10, this hearty treat is served with your choice of French Fries or Cajun Slaw and is more than enough to appease the largest of mid-day appetites. I would suggest adding a $4 side of Hush Puppies. These deep fried snacks are the perfect accompaniment to a robust-if-not-entirely-unhealthy lunch–an experience of fine southern flair, accentuated by the zydeco musical stylings that permeate this small dining room.
Brenda's opens for dinner with a more extensive menu, highlighting the mainstays of Creole fare. Beignets, Gumbo, fried chicken and a cornucopia of cajun-seasoned oysters-on-the-half-shell are perennial standouts.
When you're ready to leave make sure you bundle up tight, tuck away your smartphones and other expensive belongings and hit the sordid streets, careful to avoid unnecessary eye-contact at ALL times. But hey – even if you end up getting robbed, no one can ever steal away the satisfaction of a thoroughly delicious meal.