Britney Spears filled the Bill Graham Civic Auditorium today for a three-song concert that was stretched to more than an hour while Good Morning America cameras caught the action.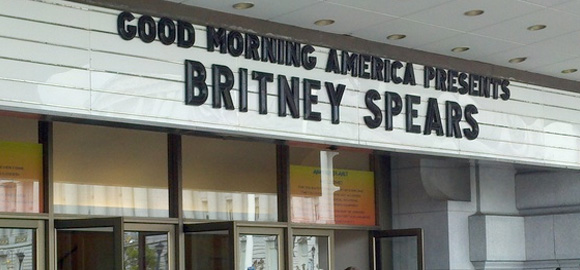 When she was on stage, Britney looked great. Appearing in a skimpy sliver sequin skirt, a naughty cop outfit, and a tight little leather number with LED lights covering her low-cut top, she performed three songs off her new album, Femme Fatal.
At times, you could tell she was a little rusty during some of the dance routines, which isn't shocking considering it was only her second performance since 2009 (her first was in front of about 700 people in Vegas on Friday), but a crew of talented dancers and exciting stage effects made for an entertaining, and all too brief, show.
The mixed crowd of teen-age girls, some accompanied by their mothers, and a large Castro contingent ate it up and was ready for more as stage explosions signaled the performance. Lady Gaga, the reigning queen of pop, just might have some competition. Look out Little Monsters.
You can see the final product during the Tuesday broadcast of Good Morning America, the same day Britney's new album is released.
Raw video and images: