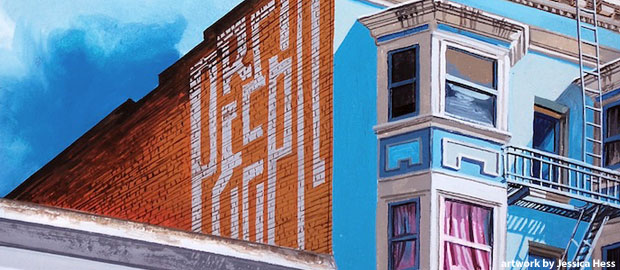 Disposable Film Festival
One of the world's coolest film festivals is happening March 20-23!

Buy Tickets
Northern Cali's Biggest St. Paddy's Party
Sadly, a lot of our favorite bands and DJs are spending time in Texas for SXSW this week, but there are enough parties to keep the lights on at venues throughout SF this week. The largest St. Patrick's Day celebration in Northern California returns with San Francisco's annual parade and the unofficial pub crawl that follows, including the O'Reilly's Block Party in North Beach. It's girls night out with ladies looking to shop, sip and socialize with Sassy City Chicks and Millennium Buggin' Out celebrates the sounds of the early 2000s. Osunlade and Marques Wyatt plug in at Public Works and Turnt features Antiserum and Mayhem at 1015 Folsom. Temple hosts a Brazilian bikini fashion show for Ultra Fashion 5.0 and there's Roller Disco in the Mission.

Weekly Giveaway: Ends Friday, How do you get to work? Show us your ride for a chance to Win a waterproof laptop/commuter/touring bag.
Thu Mar 13 - Sun Mar 23 at various locations

The nation's largest showcase for new Asian American and Asian films in San Francisco, Berkeley and Oakland. Since 1982...
Thu Mar 13
at JCCSF

As founder of IDEO, David Kelley built the company that created many icons of the digital age-the first Apple mouse, the first Palm Treo and the thumbs up/thumbs down button on your TiVo's remote control...
Fri Mar 14 at Exploratorium

Join the Exploratorium for Pi Day, the mathematical holiday founded at the Exploratorium and celebrated by number lovers around the world...
Sat Mar 15 at Fort Mason Center

Chocolate aficionados, fanatics, buyers and journalists can experience the finest in artisan, gourmet & premium chocolate in one of the world's great culinary metropolitan areas.
Sat Mar 15 at White Walls

Born and raised in Honolulu, Hawaii, Chad Hasegawa is well known for, perhaps surprisingly, taking California's state animal, the grizzly bear, as his primary subject...
Sat Mar 15 at Ruby Skye

Whether or not his progressively more maximilist take on electro-house is your bag or not, you have to respect his exponentially steep rise through the electro-house ranks...
Sat Mar 15 from 2nd and Market to Civic Center

This year's theme is - A tribute to the Irish Workers of America. Over a hundred colorful floats, Irish dance troupes and marching bands will wind their way to Civic Center Plaza...
| | |
| --- | --- |
| | by Matt Crawford |
| | |
| --- | --- |
| | by Anthony Presti |
| | |
| --- | --- |
| | by Misa Shikuma |

Tue Mar 11

Wed Mar 12

Thu Mar 13

Fri Mar 14

Sat Mar 8

Sun Mar 9

Mon Mar 10