Free San Francisco Street Fairs and Festivals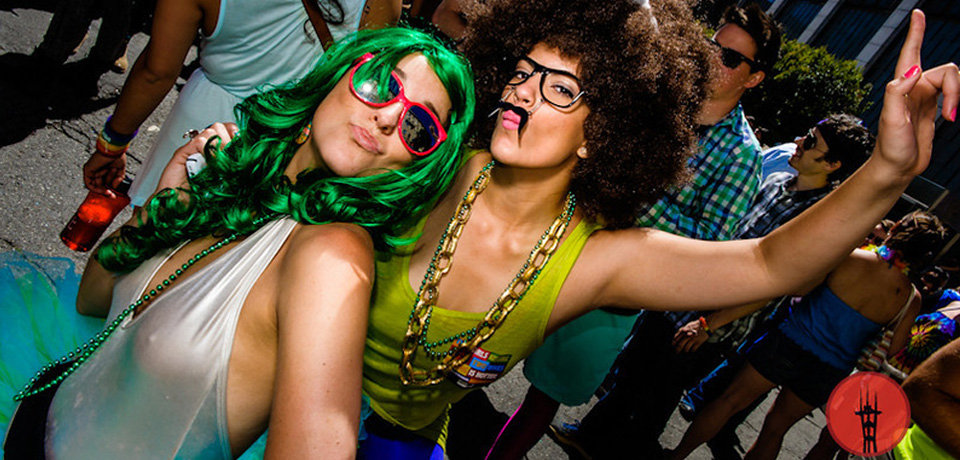 There's no doubt San Francisco is one of the most expensive places to live in the U.S., but one of the biggest perks of living in the city is taking advantage of the numerous free street fairs and festivals that happen almost every weekend from April to October. Almost every neighborhood shows off its unique identity with live entertainment, local art, vendors and tasty street food (chicken skewer, anyone?). From family-friendly events such as the Union Street Street Festival to the extreme kink and fetishes at Folsom Street Fair, there's something for all walks of life in San Francisco.
April: Northern California Cherry Blossom Festival Grand Parade
JAPANTOWN PEACE PLAZA
Celebrate the coming of spring in Japantown with the Northern California Cherry Blossom Festival, the second largest festival of it's kind in the U.S. outside of Washington, D.C., according to organizers. The festival will feature food booths, cultural performances, live bands, martial arts, the annual Cherry Blossom Queen program, and a Grand Parade starting from City Hall and concluding at Japantown. The festival celebrations take place for two consecutive weekends.
April: Earth Day Festival
CIVIC CENTER
Thousands of people from the Bay Area will converge at Civic Center Plaza in the heart of San Francisco to celebrate Earth Day with guest speakers, DIY workshops, and more.
May 5: Cinco de Mayo
MISSION
Cinco de Mayo is an annual celebration of Mexican culture featuring food, dancing, music & art! The festival, which runs along Valencia Street, also showcases the best of Mexican gastronomic talent and encourages the creativity, innovation, and quality of the best chefs in the Bay Area.
May-October: Yerba Buena Gardens Festival
SOMA
Yerba Buena Gardens Festival is an organization dedicated to enhancing the vitality and quality of life in the parks and open spaces of Yerba Buena Gardens and other public sites of San Francisco, through the curated presentation of free artistic, community, and cultural programs. The YBG Festival presents classical, world, and jazz music, contemporary and traditional dance, theater, children's and family programs, and cultural
May: Urban Air Market
HAYES VALLEY
Join your friends and neighbors at the annual free outdoor market featuring over 150 vendors.
May: How Weird Street Fair
SOMA DISTRICT
Burners, club heads, ravers, party people, misfits and everyone in between will feel right at home at How Weird Street Fair. The SoMa District street party features some of San Francisco's most popular DJs and neighboring nightclubs hold after parties once the street action is over. Wear what you want, do what you like and enjoy a day of music, art and dancing in the street.
May: Asian Heritage Street Celebration
LITTLE SAIGON
The Annual Asian Heritage Street Celebration in San Francisco's Little Saigon neighborhood is a celebration of Asian American culture. The "Faces of Asia" cultural procession provides an exciting view of beautiful traditional and contemporary dress from an array of Asian cultures. There are games, food vendors, performances and art throughout the weekend.
May: Bay to Breakers
EMBARCDERO TO OCEAN BEACH
Bay to Breakers is San Francisco tradition that is more "fun" than "run" for participants who get decked out in their wildest costumes (or wear nothing at all). The always-crazy 12k race—it's been held in San Francisco for more than 100 years—starts along the Embarcadero before cutting across the city and ending on the Great Highway at Ocean Beach. There are plenty of party stops along the way. There's a fee to register, but many people crash the course for free.
May: Carnaval San Francisco
MISSION DISTRICT
San Francisco's Carnaval parade and street fair is a celebration of the Mission District's rich history and Latin heritage. Whether it's foggy or a hot Mission weekend, expect to see lots of colorful floats and Samba dancers parading down Mission Street on Sunday. The festival on Saturday and Sunday at Harrison Street is packed with several stages for music and dance performances and local artists, vendors, street food and family-friendly activities line the street.
June: Union Street Festival
COW HOLLOW
The Union Street Festival returns with a different theme for each of its six blocks of music, fashion, technology, local exhibits and booths.
June: Haight Ashbury Street Fair
UPPER HAIGHT
The Haight Ashbury Street Fair is a celebration of the old-school Haight Street hippy ethos—peace, love and happiness. The festival draws big crowds with six blocks of vendors, food, arts and crafts, as well as three stages with live entertainment and activities for families with children.
June: North Beach Festival
NORTH BEACH
North Beach Festival boasts one of the country's longest running street fairs. Like other San Francisco festivals, there will be plenty of street vendors selling food, arts and crafts, and multiple stages with live entertainment. What you're not likely to find is anywhere else is the blessing of animals at the National Shrine of Saint Francis of Assisi, and Italian street painting and the world famous arts and culture of one of San Francisco's most celebrated neighborhoods.
June-August: Stern Grove Festival
SUNSET
The Stern Grove Festival is an admission-free music festival. Thousands of people flow into the Stern Grove canyon for these free concerts. If you get there around 12 noon you'll be able to get a good spot.
June: San Francisco Pride Celebration
MARKET STREET / CIVIC CENTER
A week of festivities celebrating LGBT culture in San Francisco culminates with the Pride Parade and party at the Civic Center. The celebration is the largest LGBT gathering in the nation. Get ready for an enormous party with a large parade taking over the city, 300 exhibitors and 19 stages and venues. Several events are held throughout San Francisco during the week leading up to the weekend.
July: Fillmore Jazz Festival
FILLMORE DISTRICT
The Fillmore Jazz Festival is the largest free jazz festival on the West Coast, according to organizers. The event includes multiple stages and eight blocks of food, beverages, and all kinds of jazz. Bars and restaurants along Fillmore Street join in with live music and specials.
September: J-Pop Summit Festival
JAPANTOWN
The J-Pop summit will feature live music, fashion, film, art, games, tech-innovations, anime, and niche subcultures. Food and drink events will also be held as well as film events at New People in Japantown. Some of these events will have an admission price.
August: Nihonmachi Street Fair
JAPANTOWN
This Japantown street fair celebrates Asian-Pacific culture, San Francisco style, with a variety of entertainment, ranging from Taiko to hip-hop, salsa and jazz.
August: Jerry Day
MCLAREN PARK
Coinciding with Jerry Garcia's birthday, one of San Francisco's most celebrated native sons, Jerry Day honors the Grateful Dead guitarist with a free party in McLaren Park with live music and more.
September: Folsom Street Fair
SOMA DISTRICT
Not for the timid, Folsom Street Fair celebrates San Francisco's diverse sexual culture and draws crowds to Folsom Street in their best leather, rubber and fetish attire—or with not much clothing at all. With about 400,000 people expected on 13 city blocks, there's plenty to see.
October: Hardly Strictly Bluegrass Festival
GOLDEN GATE PARK
With several large stages throughout Golden Gate Park, Hardly Strictly Bluegrass draws more than 500,000 people annually with big headliners and lesser known acts. From Emmylou Harris to Bright Eyes and Robert Plant, the lineup features an eclectic mix of acoustic music legends and top musicians from other genres.
October: Castro Street Fair
CASTRO DISTRICT
The Castro Street Fair has been held at Castro and Market streets on the first Sunday in October each year since the fair was founded by Harvey Milk in 1974. Expect lots of entertainment, including music, dance, comedy and variety shows, as well as tons of local art and food. A favorite exhibitor of previous years, Barnaby's World of Wonderment, features sword swallowers, burlesque dancers and other wild performers. The Castro Street Fair puts extra special emphasis on costumes, encouraging attendees to dress in their wildest outfits, which also makes for some great people-watching.
October: Fleet Week
MARINA, FISHERMAN'S WARF AND EMBARCADERO
The Blue Angels return to San Francisco this year for Fleet Week, an Armed Forces celebration that draws tens of thousands of people to San Francisco's waterfront for a patriotic party.
October: Litquake
SAN FRANCISCO
Litquake units readers and literature lovers alike. Litquake inspires writers and readers to celebrate the written word with diverse literary programming, interactive workshops, and a nine-day festival.
November: Dia de Los Muertos – Day Of The Dead Procession and Festival of Altars
MISSION
Day of the Dead San Francisco is a community event that has been happening for over 30 years. Join in the colorful tribute to honor those who've passed away. Bring flowers, candles, and remembrances of your loved ones for the community altar.
December: Union Street Fantasy of Lights
COW HOLLOW
Union Street kicks off its annual family-friendly Fantasy of Lights Holiday celebration, with Victorians decorated in holiday lights, transforming Union Street into a magical backdrop for festive activities and family-photo ops.
December: Santa Con
UNION SQUARE or CIVIC CENTER
Every December, both naughty, nice, and totally-sloshed Santas make their way through the City. The tradition started back in 1994 when several dozen Cheap Suit Santas paid a visit to downtown San Francisco for a night of Kringle Kaos. Since then things have reached Critical Xmas and Santarchy is now a global phenomenon.