Pumpkin Patches and Corn Mazes in the Bay Area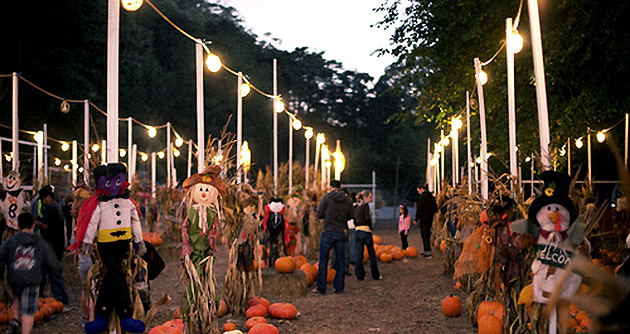 If you are looking for fun Halloween-related activities, we have you covered. Here's a list of some of the best in the Bay Area for this year's 2020 Halloween season. Expect mask requirements. Please see each website for more details.
Pumpkin Patches in the San Francisco Bay Area
Clancy's Pumpkin Patch (Two Locations)
1620 7th Avenue, San Francisco, 415.753.2689
Daily, 9am – 9pm, September 28 – October 31
2101 Sloat Blvd., San Francisco, 415.753.2689
Daily, 9am – 9pm, September 24 – October 31
This classic city spot first opened for business back in 1979. Come see ghosts in the scraggly trees, scarecrows in the pumpkin patch, and meander through a hay maze. Their selection includes a variety of mini pumpkins, Sugar Pie pumpkins, Cinderella pumpkins, as well as blue, white, and striped pumpkins.
Arata's Pumpkin Patch
185 Verde Rd., Half Moon Bay, 650.726.7548
Sunday – Thursday, 9am – 6:30pm / Friday & Saturday, 9am – 10:30pm
Lose yourself in Arata's 6-acre corn field and pumpkin river and try to navigate their 2-acre world-famous Minotaur's Labyrinth Hay Maze. If you still have energy, take a walk through their Haunted Barn… if you dare!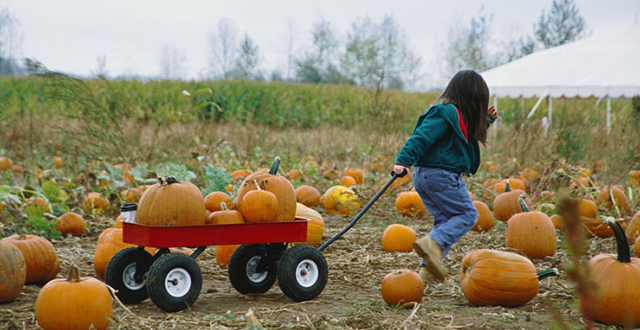 Moreland Education Foundation Pumpkin Patch (Cancelled in 2020)
4825 Doyle Rd., San Jose
Piedmont Avenue Pumpkin Patch
4414 Piedmont Ave., Oakland, 510.967.9363
Daily, 9am – 8pm
Several different types of pumpkins can be acquired at Oakland's oldest and cutest patch. Collect over 15 varieties of pumpkins, ranging from traditional Jack O' Lanterns and Sugar Pie to exotic Tonda Pandana and dark green Kabocha. This patch has been in business since 1996, making it an East Bay favorite. There are even two Haunted House options – Scary or "Less Scary".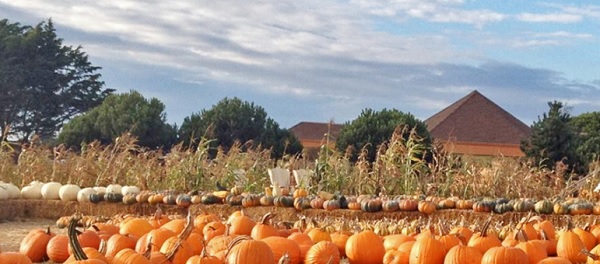 Farmer John's Pumpkin Patch
850 North Cabrillo Highway, Half Moon Bay, 650.726.4980
Daily, 9am – 5pm
Fun, family atmosphere in a relaxing oceanside setting where all are welcome, including canine friends. Diverse variety of pumpkins are grown on-site, including the Atlantic Giant. This family-run farm has been in business since 1947.
Petaluma Pumpkin Patch
450 Stony Point Road, Petaluma, 707.781.31312
Sunday – Thursday, 10am – 6pm / Friday & Saturday, 10am – 10pm
This pumpkin patch and corn maze has over 5 acres of home grown pumpkins. From small pumpkins to giant pumpkins, it's one of the best selections of pumpkins in Sonoma County. The 4 acre corn maze is a challenge, with only one way out. It takes about 45 minutes to complete.
G&M Farms (Cancelled in 2020)
487 East Airway Blvd., Livermore, 925.447.3276
Santa Rosa Pumpkin Patch
5157 Stony Point Road, Santa Rosa, 707.331.6653
Monday – Thursday, 9am – 7pm / Friday & Saturday, 9am – 10pm / Sunday, 9am – 8pm / corn maze closes 1 hour earlier than the pumpkin patch
The pumpkin patch is 10 acres of pumpkins with 45 different varieties to choose from. The corn maze is 8 acres (with both a short and long route).
Smith Family Farm
4430 Sellers Avenue, Brentwood, 925.625.5966
Daily, 9am – 5pm​
The Pumpkin Harvest is not just a pumpkin patch. There are live music performances, farm animals, a beehive, a replica Native American village and more. The mile-long hayride takes visitors through the pumpkin patch, where each visitor gets a pumpkin. They also have U-Pick options daily for Persimmons and Pomegranates.
Swank Farms
4751 Pacheco Pass Hwy, Hollister, 831.637.4704
Thursday, 10am – 6pm / Friday – Sunday​, 10am – 10pm
Swank Farms has one of the best pumpkin patches in the South Bay. Spend a little time on the farm and enjoy attractions that are fun for all ages; like the Corn Path, Farm Animals, and on Fridays – Sundays, The Trail of Lights & Frights.
Visit Halloween 2020: Drive-Thru Haunted Houses, Outdoor Movie Theatres, Live Music and More