More San Francisco Streets to Close for Walking, Biking and Social Distancing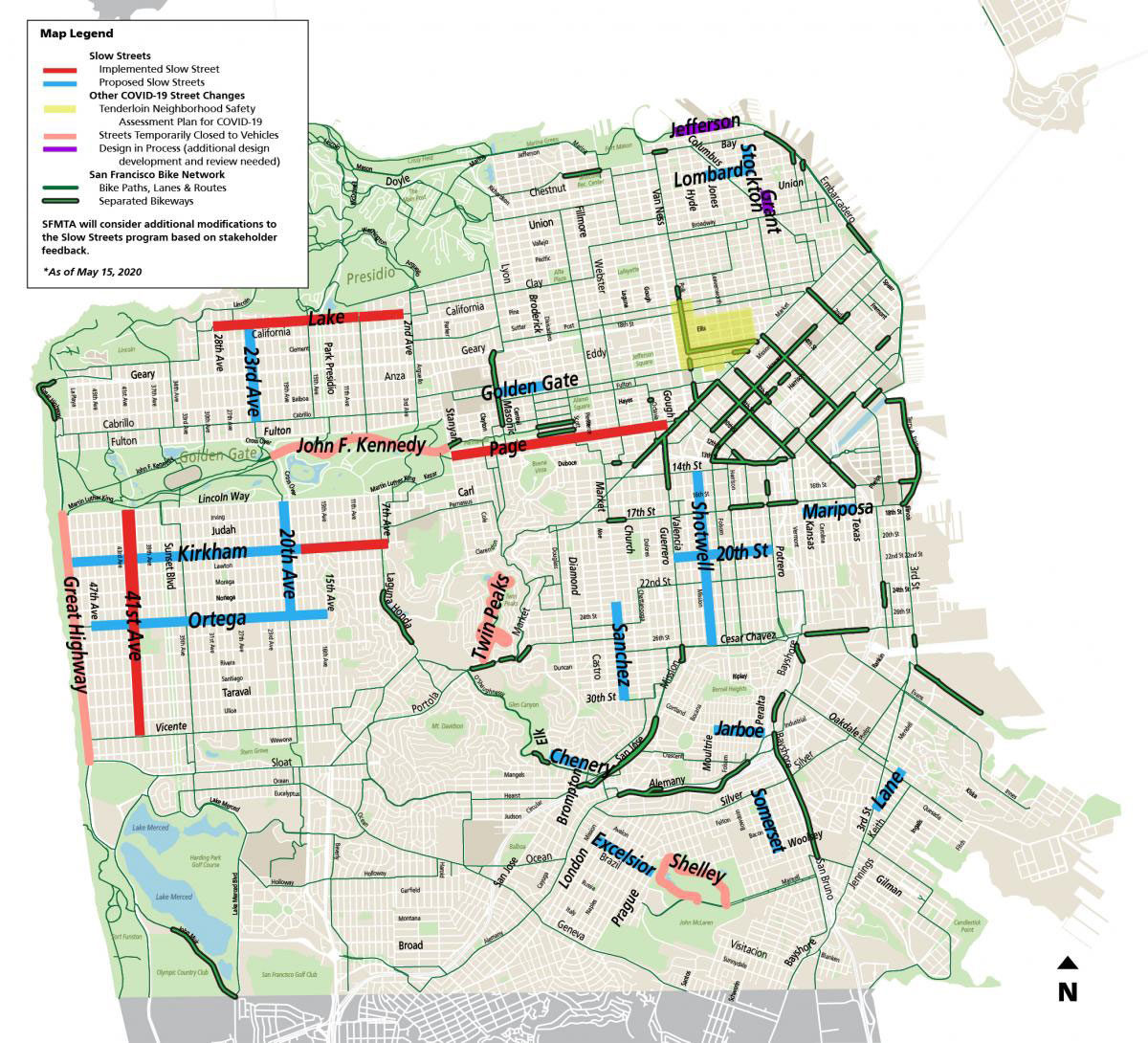 The director of the SFMTA announced that San Francisco will adopt a similar Slow Streets program that Oakland has been testing out. The closures are made to prioritize walking and biking over using cars to make essential trips. The map shows what a full list of road closures may look like but each area will only be applied 8 blocks at a time over time, not all at once.
Many pedestrians are choosing to walk in the street, exposing themselves to swiftly moving vehicle traffic… Beginning this week, we hope to install 2-3 Slow Streets corridors per week. The first round of Slow Streets implementation will consist of signage and traffic cones.
A major addition is the yellow area on the map that includes a note about assessing the safety of the entire Tenderloin neighborhood. No word yet if that includes any actionable new street closures. According to Supervisor Peskin, the Slow Streets initiative "was principally designed for low density residential areas. Major streets with multiple competing street uses – commercial delivery, MUNI, emergency access – are far more challenging."
The Tenderloin Plan is part of the City's broader efforts to address the public health crisis in San Francisco and among people who are experiencing homelessness. We noted the area on the map above and will support other departments in our capacity, including adding things like Slow Streets where appropriate.
The new additions as of Saturday May 16th that will see rollout this year:
20th Street, from Valencia to Potrero
23rd Avenue, from Lake to Cabrillo
Chenery, from Elk to Brompton
Excelsior, from London to Prague
Golden Gate Avenue, from Masonic to Divisadero
Jarboe, from Moultrie to Peralta
Lane, from 3rd Street to Oakdale
Lombard, from Jones to Stockton
Mariposa, from Kansas to Texas
Sanchez, from 23rd to 30th
Shotwell, from 14th Street to Cesar Chavez
Somerset, from Silver to Woolsey
Stockton, from Bay to Lombard
Previously mentioned streets from April 21st announcement:
| | | | |
| --- | --- | --- | --- |
| Street | From | To | Muni Routes |
| 17th Street | Church | Valencia | 22 Fillmore, 33 Stanyan |
| 20th Avenue | Lincoln | Ortega | 28 – 19th Ave |
| 22nd Street | Valencia | Chattanooga | 48 Quintara/24th Street |
| 41st Avenue | Lincoln | Vicente | 18 – 46th Ave |
| Ellis | Polk | Leavenworth | 27 Bryant, 38 Geary |
| Holloway | Beverly | Harold | K Ingleside, 29 Sunset |
| Kirkham | Great Highway | 7th Avenue | N Judah |
| Phelps | Oakdale | Evans | 23 Monterey, 44 O'Shaughnessy |
| Ortega | Great Highway | 14th Avenue | 7 Haight/Noriega |
| Page | Stanyan | Octavia | 7 Haight/Noriega |
| Quesada | Lane | Fitch | 23 Monterey, 44 O'Shaughnessy |
| Scott | Eddy | Page | 24 Divisadero |
Read the full release from the SFMTA
The Presidio is also closing some roads "​​​​​​​​to Reduce Vehicle Traffic and Create More Open Space​​ Saturday and Sunday, April 25 + 26, 7 am to 4 pm" and may extend the rule every weekend.