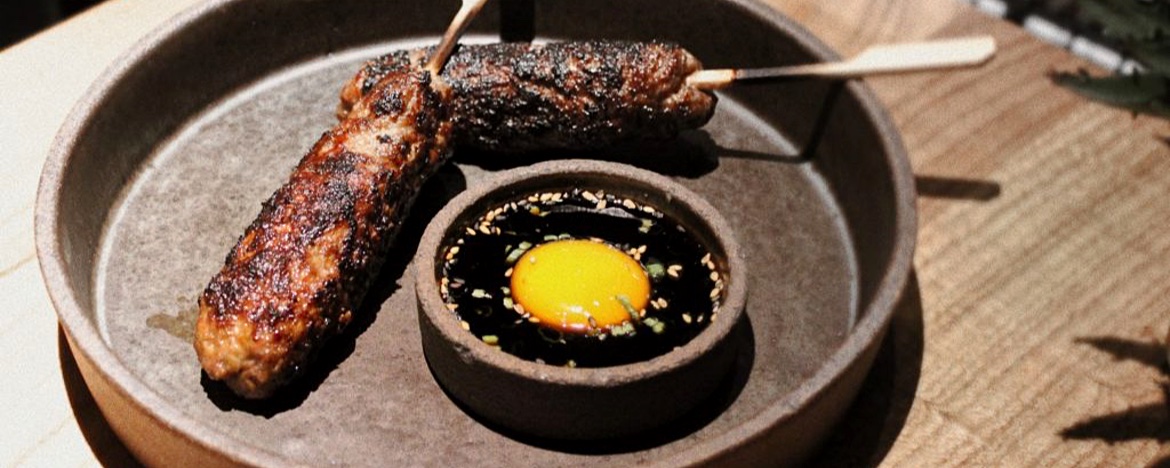 Add These November Food and Drink Events to Your Calendar
It's time to shift gears. The sun will soon be making less and less appearences, you'll stare at the laptop figuring out last-minute Thanksgiving travel, and sweaters and coats will come back into our lives. To welcome fall in the proper way, we suggest baking something grand, sipping mezcal, toasting to inspiring women, and eating deep-fried Japanese goodies in a parking lot. Sound like a plan? Here are all the November events to guide you.
~~~~~~~~

November 4th: Celebrate a legendary woman in food
There's never been a better time to support and elevate female chefs. Women Chefs & Restaurateurs, a non-profit organization, does just that. On Monday, it's coming to town with a special tasting event at the gorgeously green Julia Morgan Ballroom, from 6pm -9pm. Expect delicious bites by leading Bay Area chefs like Sarah Rich of Rich Table & RT Rotisserie and Angela Pinkerton of Che Fico and Che Fico Alimentari, with additional appearances by culinary superstars from New York, New Orleans and beyond. In addition to eating well and saluting talented women, you'll be celebrating Joyce Goldstein, a local foodie legend and and founding member of WCR. Tickets are $100.
~~~~~~~~

November 7th: Welcome fall with a Spanish twist
As the pumpkins and ghosts are gradually stashed in favor of equally hokey Christmas decor, it's becoming clear that fall is really here. Ignore consumerism and head to the excellent and perpetually busy Duende in Oakland, where chef Paul Cañales is hosting a special harvest event in collaboration with Ric and Elaine Tombari of Cooks Company Produce. The evening includes a 6-course family-style feast, with an optional wine pairing. In the menu, you'll find all the Spanish hits: jamon, marinated olives, paella, and sweet fall crepes for desert. Tickets are $95 (just the food).
~~~~~~~~

November 9th: Shop and snack with Gabriella Camara and Sabah
Sabah, the bohemian shoe brand from New York, just opened a store in the Haight. On Saturday, 2-7 pm, the new Sabah House is launching its chef series, with brunch bites by Cala's chef Gabriella Camara. Shop for comfy shoes, nibble and meet sustainable designer Maria Cornejo, who will be popping-up at the space as well. Free, more details here.
~~~~~~~~

November 12: Get a clue about carbon farming
Carbon farming is a slow-rising sustainable movement everyone will soon be talking about. Get ahead of the curve and listen to restaurant owners Karen Leibowitz and Anthony Myint discuss it with rancher Loren Poncia and the hosts of Mother Jones Magazine's Bite podcast's Maddie Oatman and Kiera Butler. Free, registration here.
~~~~~~~~

November 17th: Have all the mescal you can handle
Tickets to Mexico in a Bottle, a series of mezcal and agave tastings across the U.S, sell fast and for a good reason. With dozens of mezcal brands, over 50 makers of Mexican alcohol beverages and plenty of delicious bites, this is a party like no other. Opportunities to meet and chat with producers and connoisseurs are also available, if you plan on trying to be articulate. Tickets are $80.
~~~~~~~~

November 18th: Do your own version of Great British Bake Off
Obsessed with the elaborate baking show? Aren't we all. The staff at 18 Reasons is well aware of the hype, and is bringing it to their seasonal cooking class. At the class, demos will focus on iconic British pastries and desserts, like coconut-chocolate snowballs, spice cake and mince pies, featuring the very traditional dried fruit and nut mixture from across the pond. Our recipe? Bake it, photograph it, take it home, brag about it. Tickets are $35.
~~~~~~~~

November 27th: Discover okonomiyaki in Oakland
Hard to pronounce and incredibly easy to fall in love with, okonomiyaki are Japanese street food pancakes, topped with anything from mochi to pork belly. Popping up on Wednesday at Temescal Brewing in Oakland, the deep-fried pancakes are the perfect companion for a glass of beer and a chilly evening. Additional pop-up information available here.
~~~~~~~~

All month long: taste affordable nibbles at Niku
Tucked away in the Design District, Niku Steakhouse is a gem waiting to be discovered. For those who can't splurge on a steak dinner on a random weekend, Niku is launching a series of happy hours and whiskey socials. Running nightly from 4:30pm to 6pm, the bar menu is centered around the decadent Niku Burger (topped with melted leeks!), plus tasty bites oysters, wagyu meatball skewers, and crispy potatoes with furikake ranch. We'd pay any price for crispy potatoes, but they – and all other bar bites – are only $5-$10.
~~~~~~~~

All month long: get a Whiskey Passport with The Saratoga
The Saratoga, the fun dining spot in the Tenderloin, is known for its juicy burgers and decadent brunches. This month, the restaurant is launching Whiskey Passport, a program allowing you to taste whiskeys from all over the world, collect points and win goodies. The bigger the amount, the better the prizes, from a free snack and up to two plane tickets to Kentucky to experience a private whiskey tasting.
Photo Credit: Dana Bold of Niku