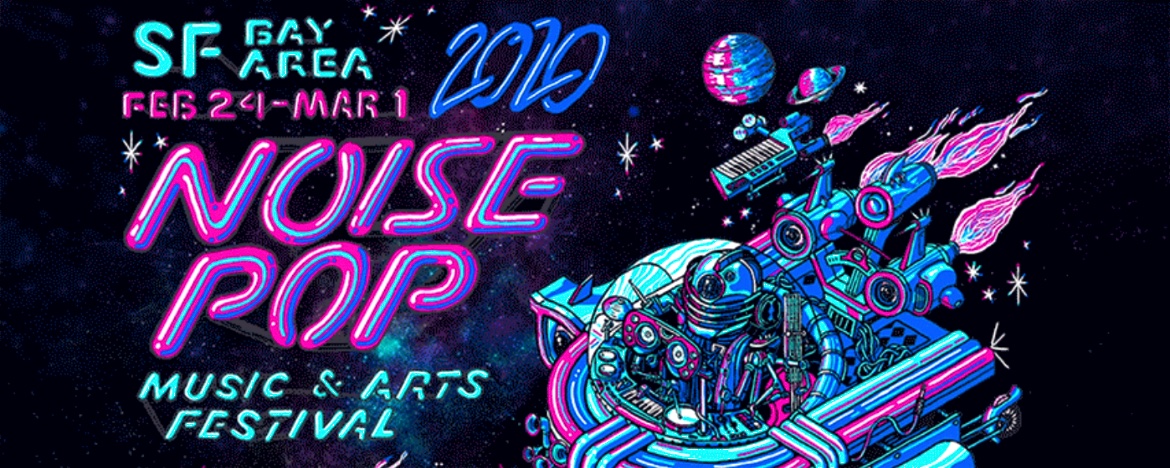 Noise Pop Reveals 2020 Festival Lineup
Organizers of Noise Pop, the annual independent music festival, made their first announcement about the 2020 festival. Next year's Noise Pop will take place the week of February 24th and the initial set of artists who'll be performing includes a few highlights you'll definitely want to check out.
~~~~~~~~

February 5 Update: Noise Pop will kick off the fest with their Official Festival Pre-Party at Cal Academy Nightlife on February 20th, which will feature a DJ set from Washed Out along with an immersive screening of Vortex 2.0. For the second year, a free Cannabis Happy Hour by greenRush and DoTheBay happens at Hotel Kabuki on the 21st. Attendees can enjoy a 420-friendly outdoor garden, meet budtenders, and will have access to exclusive discounts and deals. Noise Pop Photo Retrospective will take place this year at Hotel Biron on February 24th.
The festival also unveiled the return of its film series. Films included in the series are Pavement: Slow Century, Sonic Youth: Daydream Nation, Other Music, CRIME: 1978 & THE INVASION OF THE BODY SNATCHERS, and El Duce Tape.
December 10 Update: The third wave of lineup announcements has been revealed, highlighted by San Jose based indie and space-rock pioneers Duster, San Francisco-based indie-pop quartet Imperial Teen, rapper/singer Kilo Kish, and indie-pop/folk act Florist. The final lineup additions of national music acts will be announced in mid-January, with the full slate of local SF-based acts being announced shortly thereafter.
~~~~~~~~

November 14 Update: Organizers announced the second wave of performers, which including surf-pop group Best Coast and alternative dance act Bag Raiders. See below for the full lineup poster. More artists will be announced again in the future.
~~~~~~~~

October 23: The first wave of performers in the announcement includes multi-instrumentalist and Tony! Toni! Toné! member Raphael Saadiq, British/Japanese deep house producer Maya Jane Coles, experimental electronic folk act Helado Negro, and instrumental electronic act Shigeto and his live ensemble.
~~~~~~~~

Other artists performing this year include San Francisco-based rock n' roll band The Stone Foxes, neo-soul singer-songwriter Jamila Woods, Canadian house producer Jacques Greene, singer and violinist Sudan Archives, indie-pop band Lower Dens, and soul-jazz group The Greyboy Allstars, among many others.
~~~~~~~~

Check out the full schedule, which runs February 24 through March 1. Early bird passes to all shows are currently available for $149.