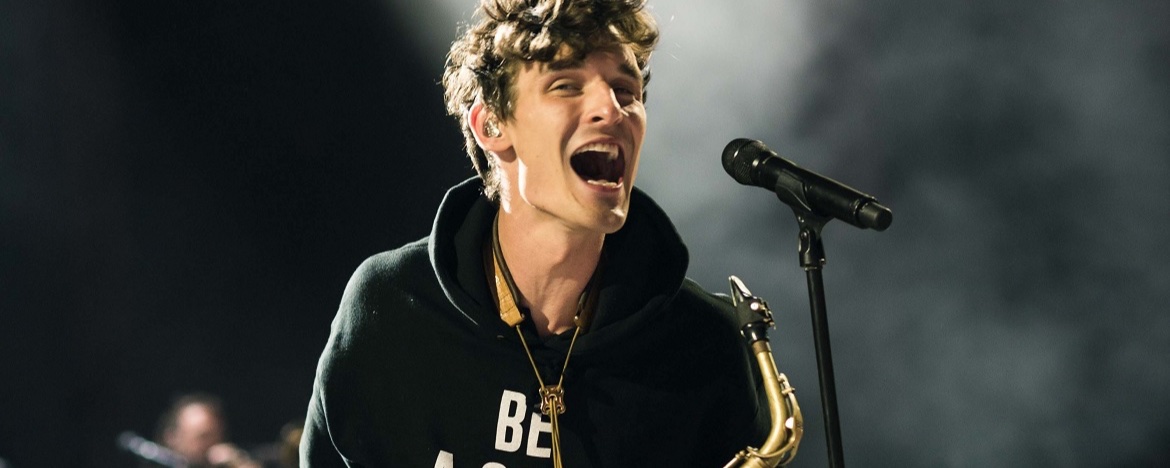 Interview: GRiZ Ready to 'Ride Waves' and Bring 'Bangers' to the Greek
Electronic producer GRiZ crosses one of his dream venues off the list this week when he makes a tour stop in Berkeley to close out the Greek Theatre's 2019 season. GRiZ, aka Grant Kwiecinski, hails from Southfield Michigan and has been performing electronic, trip-hop and dubstep music under the stage name GRiZ for the past decade.
He also has a knack for playing the saxophone, bringing a funk vibe to his live shows, and has background experience playing the piano, which contributes to his strong melodic tendencies.
This year he released his sixth studio album Ride Waves, along with three volumes of EPs each titled Bangers. Beyond his musical production, he has a passion for philanthropy, having helped raise money for various charities. Most notable is his annual holiday event called 12 Days of Grizmas; bringing attention and money for non-profits, and leads up to his 2-day GRiZMAS festival in Detroit.
To preview his upcoming Bay Area show on October 26th, we spoke to GRiZ to learn more about his creative process, some of his musical inspirations, and what he likes most about visiting San Francisco.
In what type of environment do you find you are most prolific for creating new music?
I don't think it's a physical environment, I think it's a mental state. I've made some of my best music on my laptop on a beach in Nicaragua. Sometimes I've made my favorite music in a plane 30,000 feet up in the sky. Sometimes it's been in studios across America or across the world. I remember I made a few of my favorite bass moments in Good Will Prevail in a studio in London years ago. My favorite vocal moment from my most recent album called, Ride Waves, was in a studio in Manhattan with a Brooklyn gospel choir. The mental mindstate is the destination, it's the teleportation machine that can really take you anywhere.
Who are your current musical inspirations?
I float around for sure. For the longest time, I've been the biggest fan of Mac Miller and vibe-wise Frank Ocean. Those are my two creative equals. The message and the wisdom and the energy behind what they do. I respect Frank Ocean for being, I don't want to say it, I don't have the way to back it up. I feel like Frank is a renaissance man. He does so many things. He's a creator. Not just musical, he is someone who creates. That energy inspires me a lot. Sound-wise it's so momentary. It's not necessarily one specific person that inspires me musically. I really draw my musical inspirations from the situation in life I'm in; in the current moment. I do feel inspired by these guys, like those two I've mentioned as far as what they represent and what they've done. I know Mac passed away but he had so much wisdom to offer. You listen to "Swimming," it's probably one of my top five favorite albums of all-time. It always makes me want to write something new.
Tell us more about The Imaginarium – how did those production elements come about and how is it more unique than anything you've ever done before live?
I wanted to ditch any approach that I used to have with the live show. It's a brand new approach. I wanted to do something different. The only way to do something different is to find yourself in a sense of abandon. Give yourself up to the essence of creation and living. I surrendered myself to flow. What feels best? What is next? It's not even what is the future, because the sense of time is illusory, it's not really real. But what is something fresh for me and taking these concepts of what electronic music offers and how I can involve myself within that? How can it be visually delicious and also make you feel like you didn't have to try at all but you were completely lost in the moment? You're in the most present form of yourself. That is the goal of the Imaginarium. It's a living thing, a living organism. It's not a product or a singular light or concept. It's alive and it takes every single last person in that space to live within the dream of that. That's what we're doing. We're dreaming.
It's not really about telling anybody to do anything. It's letting them do exactly what they need to be with themselves. All you gotta do is be. That's the first thing the show literally says. It opens with a conversation I had with this guy Bootsy Collins. For people who might not know he's bass player, also used to play bass for James Brown and if you don't know who James Brown is you got a lot of research. He said this thing that really shook me. We just gotta let people know they can just be, that's it. You ain't gotta try you ain't do, you gotta just be. That's how the show starts. The Imaginarium it just is. It's a dream.
You recently announced taking The Imaginarium to GRiZMAS – what other new things can we expect at your holiday shows?
The holiday shows themselves will be two or three different nights of performance completely. I don't want to repeat my performance. It's fucking boring. I don't want people to get bored with what I do. I don't want to get bored with what I'm doing. I want to feel inspired by the process of doing. I don't want to be trapped by myself. I can see the trap and keep myself outside of it by being aware. The GRiZ thing is all about living by way of this musical performance and how can I stayed inspired though it. All the shows you'll see through the holiday will be very different in energy, vibration, and intention. We'll do throwback night, we'll do a DJ set the night before, and then we have the Imaginarium. It's not about musical selection as the intention of the show.
Then I think personaly the greatest part of GRiZMAS is having fun for a good reason. We being GRiZ fans made a ton of money for charity by doing things like roller discos or some new events this year that I can't speak on quite yet. Mystery parties. Yoga in historic buildings. We're looking at an extra special place this year we're hoping to lockdown. We have HQ which is a 900 square foot building that we completely metamorphosized into a GRiZMas workshop, which will have free coffee, a special new brew from Great Lakes coffee. Stop in for a free cup of coffee. We have tons of merchandise Seven Mile Music, which is a music program in the Brightmoor neighborhood in Detroit. Really GRiZMAS is a community effort and it's an instant community. It's not just people from Detroit. People from all over that have an open heart and an open mind. They want to give back.
What was your biggest takeaway from participating in the four-hour Fortnite live stream fundraiser on Twitch?
I'm a huge, huge fan of the streaming community, which is low key. People don't know that about me which is totally fine. One, my biggest takeaway, being a streamer, holding a conversation and playing those games at such a high level is so hard and they are so talented. Big ups to them. The other thing is I firmly believe that the world is made a better place by human beings who also kind of destroyed by them at the same time. But when we give people the opportunity to do something good and you align it with someone to enjoy, that's all they really need. You just need a bit of courage. People are very willing and well-natured, soft and gentle, interested and curious. And they are down. Sometimes they just need a little nudge. That's why IIm here. I will be someone who will roll the ball and invite people to roll with me.
Are there any live venues you have left on your wish list to perform?
Oh definitely. There's a lot of people familiar with Red Rocks and have been for a long time. When I was first getting into music, I had zero idea that that place even existed. When my manager at the time said I should play it, I was like oh cool, sure, what is that? The point of that is that there are other places in the world that I don't know exist so I'm so excited to continue this journey of life. Not even seek these places out but have them find me one way or another. I just like to travel.
But, I was kind of stalking the Greek in Berkeley a bit and trying to imagine putting myself in that space. It got me really fucking excited. I tried my best to kind of stay away from tempting myself with that until this week and now I can gear myself into that and not just romantically look into the future and feel a little shame that I'm not enjoying where I'm at now. I'm currently in beautiful San Diego and the weather couldn't be better for late October. But now I'm within that timeframe of enjoying dreaming at that venue. It looks so epic and beautiful and some sort of coliseum type old school fantasy. Something out of fantasy novel, some kind of crazy. Retro roman era coliseum type gladiator shit, you know? I just can't wait. I feel that's another big one to cross off the fucking list.
What do you like most about visiting San Francisco?
I got a bunch of very awesome friends in the Bay Area. I can't wait to see them. I've got some family members too. The city itself is kind of like that energy where I just want to sit and observe. I'm just excited to be in the vibe. It's such a unique spot. Everything is just so different. There are very few places on this planet that have that type of architecture vibe. Such a rich history of LGBTQ zone and realm. I'm a big supporter of Harvey Milk and I understand the history there too. It has significance outside of things I just want to taste and do and smell and experience. It's a cultural battleground too. There's a lot to it. I love SF. I'm excited to be back.