Put These July Food and Drinks Events on Your Radar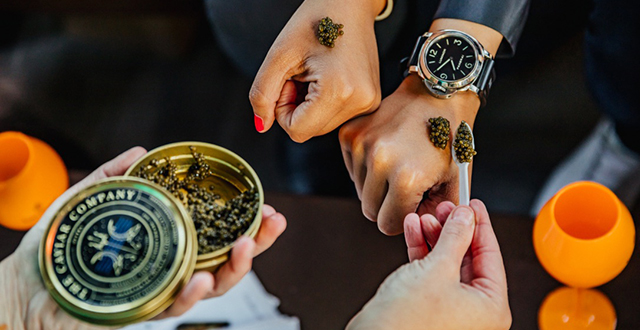 From caviar bumps to indulgent sundaes, July feels especially decadent. This month, our foodie recommendations include a re-launch of a crowd-favorite, a unique night market and other coming attractions. Come hungry!
~~~~~~~~

July 5th: Visit a foodie night market
Inspired by Asian night markets, the vast market at Golden Gate Fields, Berkeley is packed with over 100 food vendors, as well as about 50 arts and crafts vendors. Get lost in the crowd and check out dishes from food business local and foreign (like the So-Cal hit Bred's Nashville Hot Chicken), while sipping bubble tea. The market goes on until midnight, which is not to be taken for granted. Entrance is $5, tickets are available here.
~~~~~~~~

July 6th: Drink all the boba
The weather says it's summer out there, so boba tea makes more sense than ever. Right on schedule, the SoMa StrEat Food Park is throwing a boba festival, from 11-4pm. Expect wild taked on everyone's favorite drink, plus free sunscreen to shield you for the hot, hot San Francisco sun. Entrance is $5, available here.
~~~~~~~~

July 8th: Have brunch for dinner
Coordinated by two female Michelin-starred chefs, Hilda and Jesse is a pop-up like no other. Chefs Kristina Compton and Rachel Sillcocks are in love with the breakfast for dinner concept, and their food incorporates Latvian, Asian and other influences. On July 8th, starting at 5:30 pm, a number of sittings are available for a $45 three-course dinner, with interesting interpretations of steak and eggs and cereal bowls. Tickets are available here.
~~~~~~~~

July 8th – 11th: Attend Spinbeldon
What? SPIN, San Francisco's very fun ping pong club, is celebrating the British Wimbeldon tournament with its own, table-tennis version: on July 8th-11th, festivities like a competition, an all-white party and berries and cream sampling will take place, brining a bit of Britain to the Bay. More details available here.
~~~~~~~~

July 9th: Reem Assil Guest Chef Dinner for Greens Restaurant 40th Anniversary
Greens Restaurant enters its 40th year of celebrating vegetables premieres its acclaimed Chef Dinner Series by featuring Chef Reem Assil with Reem's California & Dyafa. Join us for a special four course prix fixe dinner and intimate gathering. Make a reservation here.
~~~~~~~~

July 13th: Have an epic sundae
Every month, Ginger Elizabeth Chocolates has a special sundae celebration. This month, on Saturday, July 13th, the Cow Hollow charmer will offer a deep-Dish marionberry cobbler with triple egg yolk ice cream and cake crumb doughnuts. Sounds amazing. For $9.50 a pop? You bet.
~~~~~~~~

July 13th: Hang out on the beach and grab a drink at Taco Bell Cantina in Pacifica
Join city officials and VIP's from Taco Bell's headquarters for the ribbon cutting ceremony and grand opening celebration of Taco Bell Cantina from 11am – 3pm. Located right on the beach, those 21 & over can enjoy frozen margaritas, sangria and beer. There will be food specials, giveaways, and more.
~~~~~~~~

July 17th: Sip agave spirits with your Indian food
The chic Indian eatery August (1) Five is hosting Spice Knows No Border dinner, showcasing the surprising similarities between Indian and Mexican cuisines. The menu will include a paneer empanada, roti lamb tacos and other thrills, paired with mezcal and tequila cocktails.Reservations will be available on OpenTable between 5:00pm and 8:30pm for $115, including tax and gratuity.
~~~~~~~~

July 18th: Feast on National Caviar Day
Does one need a real reason to nibble on caviar? Certainly not. Nevertheless, The Caviar Co. will mark the occasion between 6:30pm – 9pm, with an indulgent event at White Rabbit. Treats include sips of Veuve Clicquot, Belvedere drinks, bumps of caviar and caviar-loaded bites by Balboa Cafe chef Goran Basarov. Fittingly, tickets are $150 per person.
~~~~~~~~

All month long: Marvel (and eat) at Palette
A spacious San Francisco restaurant where fellow diners are more than an elbow-length away? Count us it. Palette, the new establishment near the similarly new Virgin Hotel, is part gallery, part shop and part gorgeous eatery; with dinnerware made especially for certain dishes. Order the beet tartar and the magnificent roast chicken; buy a bowl or two and enjoy the rare relaxed atmosphere.