Flower Piano Celebrates 5th Anniversary with 12 Days of Music in the Park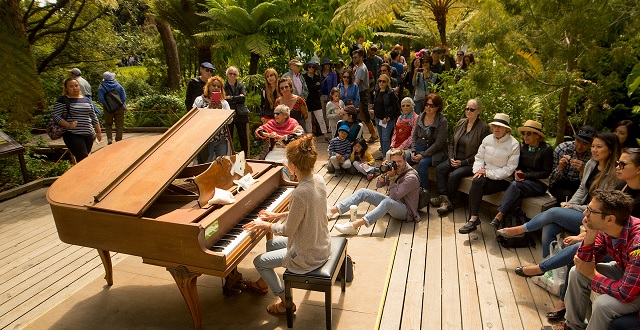 Flower Piano, the annual Bay Area tradition returns to the San Francisco Botanical Garden for its fifth year anniversary. In partnership with Sunset Piano, Flower Piano is twelve days of piano in the park, running July 11th – 22nd. Last year, more 60,000 people attended Flower Piano. If you're not familiar with the event, pianos are placed in various locations throughout the beautiful, 55 acre gardens. From 9am – 6pm, visitors can play any of the pianos and at specified times (concert schedule), professional musicians put on free performances.
Special ticketed evening events include Flower Piano at Sunset and Flower Piano at Night. There will even be food trucks and outdoor bars inside the gardens for these special events.
Flower Piano at Night runs July 18th – 20th. For three nights, illuminated pathways guide visitors to glowing pianos, where Sunset Piano all-stars perform. Flower Piano at Sunset is geared more toward families, with music classes for toddlers, and a talent show for children 12 and under.
Photos by Travis Lange
Flower Piano 2019 Performances
New weekday Lunch Time Concerts presented by San Francisco Conservatory of Music
The Awesöme Orchestra Collective, a full symphony orchestra that invites the audience to experience both the rehearsal and performance of two piano concertos
Bay Area Hawaiian dance supergroup Nā Lei Hulu I Ka Wēkiu performing contemporary and traditional hula accompanied by piano
Shows by members of the SF Symphony
Francisco Rosales Ensemble with a program in Spanish of Cuban traditional music
Kash Killion with a world music program on a variety of instruments from around the globe
Tammy Hall's tribute to Bay Area women in music
Stanford University Ragtime Ensemble performing rarely heard Scott Joplin Rags
Rob Reich Swings Left
Featured pianists Sarah Cahill and Van-Anh Nguyen
~~~~~~~~

San Francisco Botanical Garden
1199 9th Avenue, Golden Gate Park, in San Francisco
Open daily from 7:30am – 6pm (last entry)