Punk Human Beings: The Dwarves Play Burger Boogaloo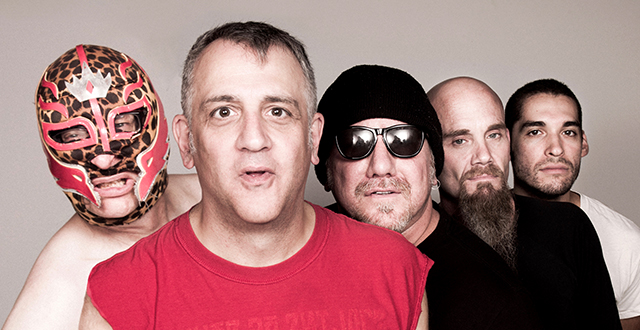 "We're rock 'n' roll, but we're punk human beings."


Long-time San Francisco punk band The Dwarves have been playing the scene since the eighties. They're old school punk: loud and thrashing, crass and cursing. But they've got other sides, too. 'We're surf and rock and 60's garage rock and rockabilly… and we're just fun. We're the last band to make good punk records," says front man Paul Cafaro, known in Dwarf land as Blag Dahlia.
"What about all those other bands out there, though! None of them are good?"… We're talking about the lineup at this year's Burger Boogaloo. I start listing bands: "The Scientists, Shannon and the Clams, Jesus and Mary Chain, King Tuff. These new kids, The Chats, are pretty good."
I can hear him laughing on the line as he agrees that the bill for Boogaloo is pretty great. But as far as punk? True hardcore punk? "It's just different these days. Everyone has just gotten so safe," he says.
"Speaking of safe," I say, my nurturing, worried side coming out because The Dwarves are always getting in trouble: with the law, pissing people off; being generally offensive… "Do you ever just get exhausted getting in trouble?"
Blag lets out a hard, throaty laugh and says, "Yeah!" before laughing some more and adding, "But it's all we know how to do, I guess. We're rock 'n' roll but we're punk human beings."
"Well okay, speaking of safe again, you guys have a reputation for getting naked on stage. Like, full-on." I don't have the heart to bring up all the naked chicks on their album covers but I ask, "Should we expect to see some of that at Boogaloo this July?"
He laughs again and says, "Hey you don't know what we're gonna do. You never know… But there's just something about being naked on stage that makes you feel free. It's your 'I've got nothing to lose' statement. I'm here, here I am, take the clothes away and just play. The first time I saw someone play naked was the Butthole Surfers… Gibby Haynes came on stage in a dress then just ripped it off. It's this amazing anti-climax climax." Blag adds that now that he's older and fatter he's not as interested in the nudity thing but says, "Hey, you never know. Especially, 'He Who Cannot Be Named.' Never know what he's gonna do."
"Well, we'll brace ourselves for Boogaloo, then," I say. Then add, "What else have you got in the works?"
I'm pleased to hear Blag is working on his third novel. "It's literary fiction. Called Highland Falls," he says. I'm also interested to learn that he's working on a solo project, totally unrelated to The Dwarves. He and Lisa Kekaula (of Bell Rays) have teamed up on a new music project. And this summer, The Dwarves are revving up for a long European tour, playing all over the place, including Hell Fest, Rebellion Fest and their first ever show in Greece.
Love em, hate em, take offense or not, The Dwarves are dropping down in Oakland for Burger Boogaloo. Never know what's going to happen. And we're stoked about that.
As host John Waters says, "Burger Boogaloo is the perfect cult gathering of young and old music rebels who hate everybody in the world except each other."
Burger Boogaloo: 10 Year Anniversary
Saturday, July 6 & Sunday, July 7th
at Mosswood Park, Oakland