Celebrate Summer with 7 Local Shows and Celebrations in June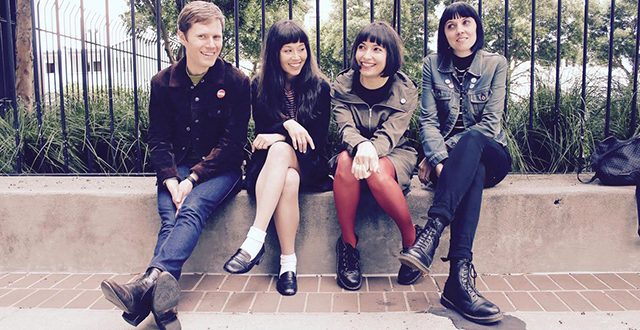 June gloom is always a threat in San Francisco, but at least the music scene is bringing the summertime heat this month. The free street fair season is at its peak, local bands are hitting the stage with new music, and it all wraps up with a giant LGBTQ cherry on top for SF Pride.
~~~~~~~~

June 6: The Y Axes at Rickshaw Stop (album release)
If you like your rock with a touch of pop (or is it pop with a touch rock?), don't miss The Y Axes. The SF-based band has already put in some serious work on stage in the Bay Area and beyond this year ahead of the debut of its fourth album. Celebrate its No Waves LP at Rickshaw Stop with The Band Ice Cream and Talk.
~~~~~~~~

June 7: Seablite at Bottom of the Hill (album release)
Dream pop harmonies, subtle surf guitar riffs, a bit of distortion, and a splash of reverb. These are the sounds of summer in SF, where the weather can swing from sunny and windswept to romantic and foggy in a matter of minutes. Seablite provides the soundtrack at Bottom of the Hill with a release party for Grass Stains and Novocaine, a follow-up their 2017 self-titled EP.
~~~~~~~~

June 7: Bayonics at The Chapel (album release)
Bayonics has been a staple of the SF music scene for years, delivering a musical gumbo of reggae, funk, Latin, and hip-hop jams to keep the crowd moving at festivals, local venues, and the occasional weekend brunch party. Their next stop will be at the Chapel to debut a timely new LP, Resilience.
~~~~~~~~

June 7 & 8: Huichica Music Festival at Gundlach Bundschu Winery
Each year Huichica presents a highly curated line up of artists worth knowing about and pairs them with artisan regional wines and local culinary talent. Away from the crowds, there are no bad seats at this family-friendly boutique festival. This year is headlined by Real Estate, Lee Fields and the Expressions, and Connan Mockasin.
~~~~~~~~

June 15: Phono del Sol at Potrero Del Sol Park
After a one-year break, Phono del Sol is back in action – and this time it's free. Head to Potrero Del Sol Park in the Outer Mission for a day party featuring a solid mix of visiting and local bands fueled by local food trucks and beverage options. Porches, Chastity Belt, Oakland's Sol Development and SF band Blues Lawyer hold down the lineup, among others.
~~~~~~~~

June 29: Waterstrider at Bottom of the Hill (EP release)
Oakland's Waterstrider returns to the stage after a two-year break with Way Out, a new EP that drops the night before the show. The title track rides a deep groove and takes a heady journey "away from everything that is known and understood, in the hopes of finding meaning and truth outside of the self," says frontman Nate Salman. Expect many more new tunes at the show.
~~~~~~~~

June 29 – 30: SF Pride
San Francisco's LGBTQ community and the masses that hit the city to celebrate shine brightest at SF Pride festivities, but you'll also find local venues, clubs, and any number of public spaces in full-blown celebratory mode with DJs, bands, and anything else you desire. Plan your week with SF Station's Pride Guide before hitting the parade and celebration at Civic Center on June 29-30.
~~~~~~~~

Check out SF Station's calendar for complete June listings.