La Frontera Between Art and Activism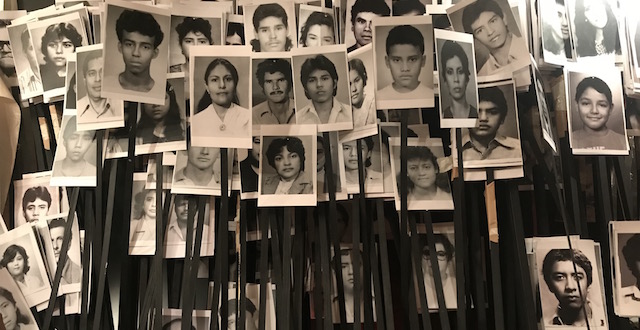 As the country seems to grow more diverse with each passing day, LA FRONTERA brings the conversation of national identity front and center. On Thursday, April 25th, the Jewish Community Center of San Francisco will host works by artists in LA FRONTERA, an exhibition that navigates Mexico/US border relations and human rights.
Curated by David J. de la Torre and running through September 23rd at the Katz Snyder Gallery, the show explores concepts of immigration, detainment and asylum through contemporary art and media.
"The JCCSF provides a platform for conversations around complex issues facing our society today," said Marci Glazer, CEO of the JCCSF. "As the matters around borders and migration grow more urgent every day, we invite the community to experience this important issue through the LA FRONTERA exhibition."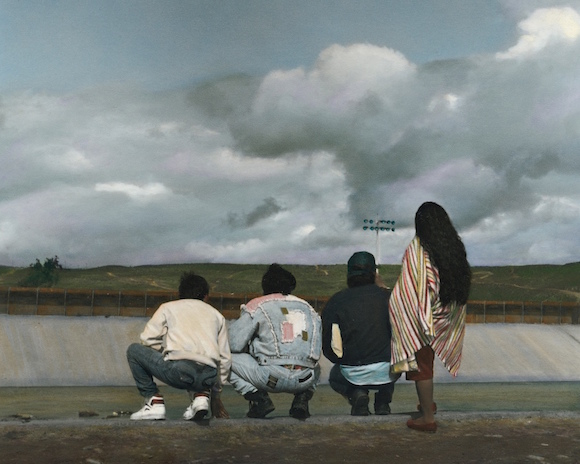 "Viewing California while Looking To Run" by Ann Rhoney
Artists have always sought to build community through creativity, bridging historical and cultural divides to propose solutions to the pressing issues of our time.
Sergio de la Torre, an artist and "accidental" educator, knows this topic well. He grew up in a working class neighborhood in Tijuana right outside San Diego and witnessed just how dependent each city was on one another.
De la Torre works alongside Chris Treggiari on Sanctuary City Project. Their installation offers viewers the opportunity to learn about decisive moments in US immigration history, share experiences about immigration, and work together to make protest posters on border policy.
The project owes its name to the over 200 Sanctuary Cities nationwide that were historically designated by the Catholic church for immigrants to seek refuge. The project also shed light on how California has responded to these policies since the country began tightening its borders in the 90s.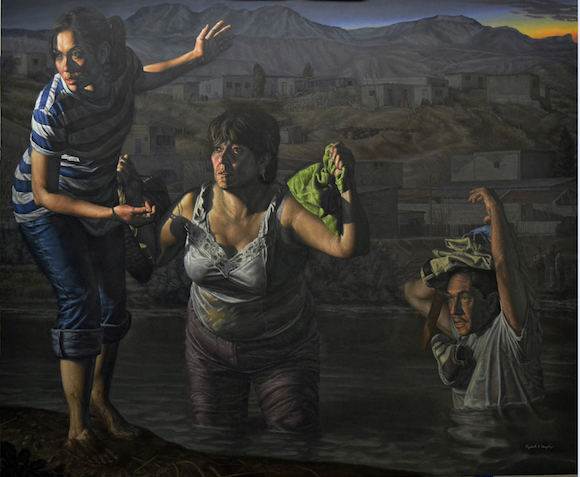 "La Guia (The Guide)", 2014, Oil on Linen, by Rigoberto A. Gonzalez
There have been plenty of reactionary approaches made by government that have often been grounded in a lack of understanding, de la Torre said. Some of that miseducation has been driven by myths of how crime and drugs cross the border, or why people make the decision to migrate in the first place.
"We need to talk to people and understand why people are leaving those places," said de la Torre. "People are so concerned about the border that have never seen the border — they've never been there, but they're so afraid of it."
Since Donald Trump's presidency began, there have been ongoing attempts to limit funding to areas that don't collaborate with federal enforcement. So much of de la Torre's work via Sanctuary City gives back to the very communities it tries to protect. They will often spend a few hours designing products like tote bags and then sell them for a minimal fee, giving all the proceeds to organizations along the border.
Matt Gonzalez, a public defender and lender to the show, said he hoped the exhibition would foster dialogue. Gonzalez, an artist himself, grew up in McAllen, TX, less than 10 miles from the border, and the city of Reynosa, Mexico, where he was baptized.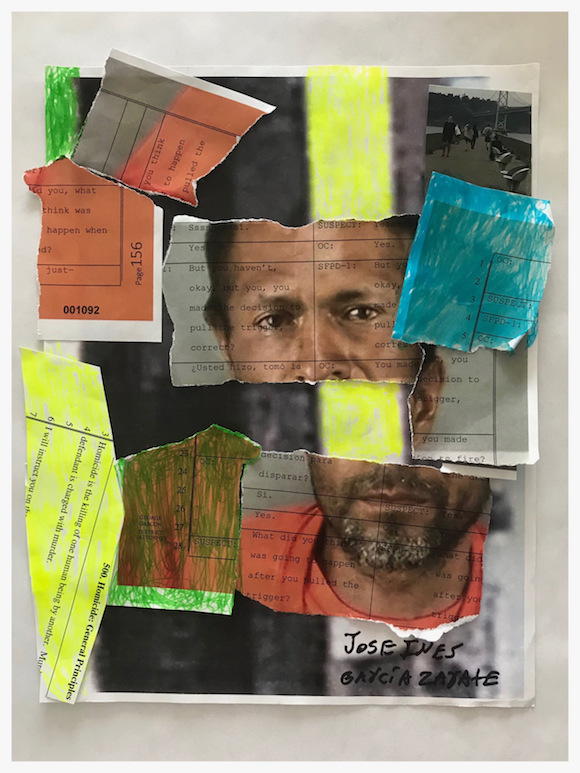 Work by Jose Ines Garcia Zarate
One of the artists he's particularly interested in seeing work from is Jose Ines Garcia Zarate, a homeless undocumented immigrant.
Back in 2015, Zarate was arrested on suspicion of murder when he was found in possession of a gun that fired and killed San Francisco resident Kate Steinle. Although he was later acquitted of the charges, the debate was a sore subject for those on both sides of the argument around illegal immigration.
Zarate's piece in the show is a collage constructed from some of the materials from court, brought to him by Michael Hinckley, an attorney on the case.
"I think in a lot of ways it humanizes and personalizes an issue sometimes to see an artist try to render a subject matter in a particular way," said Gonzalez. "Of course a show like this isn't gonna hand you a leaflet with ideology or political ideas, but it'll certainly spark considerations and hopefully there will be some good discussion around it."
Join the artists for LA FRONTERA's Opening Reception on Thursday, April 25th, from 6–8pm for complimentary food and drink. The show will run through September 23rd.
The Katz Snyder Gallery is located on the second floor of the JCCSF at 3200 California Street, and is free and open to the public Monday – Thursday from 8am – 10pm and Friday – Sunday from 8am – 6pm.
activist, America, artist, border, Culture, Immigration, JCC, la frontera, mexico, mural, Performance, policy, printmaking, Zarate