Celebrate National Grilled Cheese Day with Free Sandwiches in SF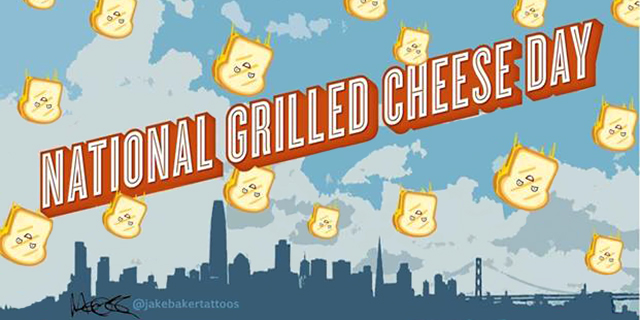 Friday is National Grilled Cheese Day and the GrilledCheezGuy (at 529 Stevenson Street) is offering up free grilled cheese sandwiches. So hopefully you can make it downtown for a free, oooey-gooey treat; but if you can't, don't forget to celebrate at home with your own creation – and do it up the way you like.
Another highlight of the day will be the 2nd Annual Grilled Cheese Eating Contest. At noon, all interested eaters who've entered, will comp(eat) for the chance to win a grilled cheese sandwich every day for a year – enter the contest here.
Schedule:
11am – 12noon: Opening & Free Grilled Cheese till noon with give-a-ways!
12noon – 2pm: Grilled Cheese Eating Contest
2pm – 4pm: Free Grilled Cheese till close!
If you can't make it to SF in the day, there will be an early evening event in Alameda at Faction Brewing, featuring grilled cheese sandwiches and brews from 4pm – 8pm.