Take Five: Don't Miss These SF Concerts in April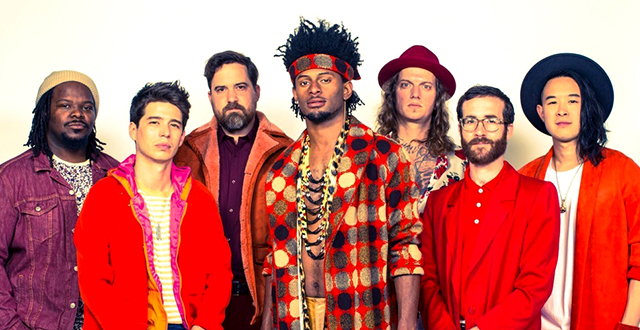 Coachella is kicking off music festival season this month in SoCal, but there are plenty of reasons for local music fans to be in a festive mood, as well. Venues are teeming with homegrown talent and artists passing through on their spring tours. Don't sleep on these shows:
April 4th: Sunni Colón @ Cafe du Nord
Breezy, reverb-drenched funk is having a moment right now, and if there's anyone poised to bubble up into bigger venues alongside acts like The Internet, it's Sunni Colón. His tweets read like a self-help book ("what's your love language?"), and his music feels like something you need to hear to wash away the day's burdens – therapeutic.
~~~~~~~~

April 6th: Con Brio, Midtown Socal & Lyrics Born @ August Hall
Con Brio's brand of SF big-band funk comes with a dynamic stage show that has earned the group a reputation for delivering a party wherever it performs. Expect nothing less with Midtown Social and East Bay lyricist Lyrics Born filling out a stacked lineup at August Hall.
~~~~~~~~

April 16th – 17th: Makaya McCraven @ Black Cat
Pushing the boundaries of new jazz, Chicago-based drummer, producer and self-described "beat scientist" Makaya McCraven makes a rare SF appearance with two shows at the Black Cat. His mixtape-style releases are often rooted in live jazz performances, but with sonic manipulations that at times feel in close orbit to producers like Flying Lotus or DJ Shadow.
~~~~~~~~

April 18th: Budos Band @ The Fillmore
There's no better place to catch the Budos Band in SF than The Fillmore. The purple chandeliers, dusty memorabilia, and acid-drenched history of the venue provide the perfect backdrop for the nine-piece band to give its horn-driven psychedelia some room to groove.
~~~~~~~~

April 28th: John Vanderslice @ Rickshaw Stop
San Francisco is losing yet another anchor of its music scene with the impending departure of John Vanderslice, who after 20+ years of making music in the Bay Area and operating Tiny Telephone Studios is departing for LA. He's sticking around for one last hurrah to celebrate the release of his 11th album, The Cedars.